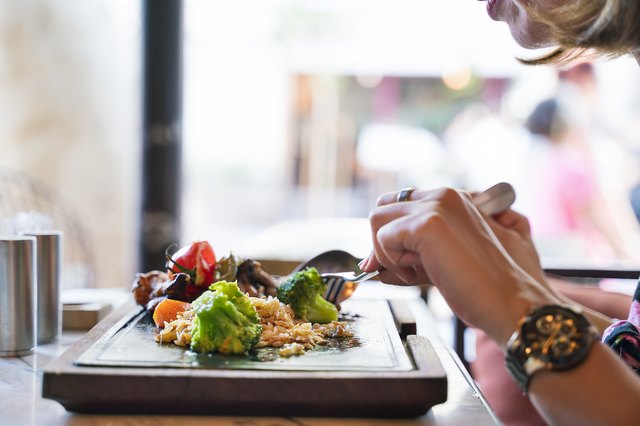 Enes Evren/iStock/GettyImages
Broccoli salad is one of those quick, easy-to-throw-together salad recipes that you need to have in your salad repertoire. Using only a few key ingredients – the most important being, of course, broccoli – this salad is also highly customizable based on your taste.

Toss together some broccoli florets, onions, nuts and dried fruit in a mayo-based dressing and you end up with a salad that's fresh, crunchy and creamy every single time. From healthy weekday lunches and dinners to summer potlucks and barbecues, make broccoli salad for guaranteed rave reviews!
How to Make Broccoli Salad
The key ingredient in any broccoli salad recipe is its namesake, broccoli. The quickest option is to cut up a fresh head of broccoli into bite-size florets and combine it with the other salad ingredients. While this may be tasty for some, others may find the taste of raw broccoli to be bitter. In this case, it's best to blanch the broccoli florets in boiling water before using in your salad. This method removes the broccoli's bitterness while still maintaining this popular salad's crunchiness.
Dried fruits and nuts like cranberries, almonds, walnuts and sunflower seeds are all popular broccoli salad recipe additions. They add both flavor and texture to this simple salad and pair incredibly well with the simple tangy mayo-based dressing that's made with mayonnaise and vinegar.
The Best Broccoli Salad Recipe
Total Time: 1 hour 15 minutes | Prep Time: 10 minutes | Serves: 2 to 4
Ingredients:
1 pound fresh broccoli, cut into florets
2 cloves garlic, minced
1/4 red onion, thinly sliced
1/4 cup walnuts, toasted
1/4 cup dried cranberries
1/4 cup mayonnaise
1/2 tablespoon apple cider vinegar
1/4 teaspoon sugar
1/4 teaspoon salt
1/2 teaspoon black pepper, freshly ground
1/3 cup sunflower seeds (optional)
Directions:
In a large saucepan over high heat, bring water to a rolling boil and season with salt.


Add in the broccoli florets and blanch for a minute until they turn a dark green color.


Turn off the heat and immediately drain florets before rinsing in cold water.


Using a paper towel, wipe the florets until completely dry.


In a medium bowl, whisk together the mayonnaise, apple cider vinegar, sugar, salt and pepper.


Mix in the broccoli, garlic, onion, walnuts, cranberries and stir until well combined.


Refrigerate for at least an hour before serving.
Tip
For more crunch add 1/3 cup of sunflower seeds. For a salty crunch, fry up some bacon and serve crumbled atop your salad.
Variations on the Broccoli Salad Recipe
Common variations include a broccoli salad with bacon made by frying up a couple of slices of bacon, crumbling them and adding them as a garnish over your broccoli salad. If you don't have fresh bacon on hand, you can also substitute bacon bits – some brands like McCormick's are completely vegan.

Another common twist on broccoli salad is to add raisins instead of the traditional cranberries. This changes the flavor of the salad and offers a sweet component to an otherwise savory salad recipe. It's best to use golden seedless raisins, which provide a mild flavor; currants can also be used but will make the salad more tart and tangy.
Tip
For a unique twist on the traditional broccoli salad recipe, create a broccoli slaw with shredded broccoli.