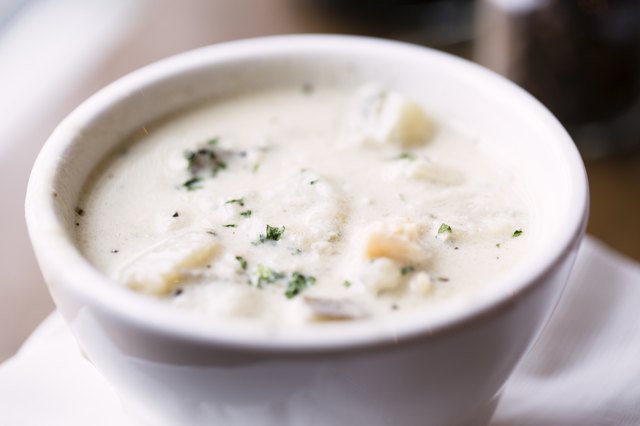 cindygoff/iStock/GettyImages
An ideal comfort dish for a rainy day, New England clam chowder is a rich, creamy soup that tastes of the sea. Fortunately, you don't need to pack up and head to Boston for a delectable bowl of clam chowder; it's easy to make in your own kitchen using just one pot. In a perfect world, you would have the time to use fresh clams in your clam chowder recipe. Cooking and shucking clams can be quite time-consuming, however. But worry not: You can make a delicious New England clam chowder using canned clams. Throw in some sausage, like chorizo, for an unexpected spicy note.
Total Time: 60 minutes | Prep Time: 20 minutes | Serves: 4
Ingredients:
2 tablespoons unsalted butter
3 slices bacon, finely chopped
1/8 pound Spanish chorizo, optional
2 celery stalks cut into 1/4-inch pieces
1 large onion, diced
1 garlic clove, minced
1 bay leaf
4 cups clam juice
2 cups heavy cream
1 pound Idaho or Yukon gold potatoes, cut into 1/2-inch cubes
1 tablespoon fresh thyme, chopped

3 tablespoons all-purpose flour
2 (10-ounce) cans chopped clams
1 bay leaf
kosher salt
freshly ground black pepper
oyster crackers (optional)
chopped parsley (optional)
Directions:
In a large, heavy pot, melt the butter over medium to high heat. Add the bacon. Cook for about 8 minutes, until the fat is rendered and the bacon has browned. If you are adding chorizo, toss it into the pot with the bacon.


Add the celery, onion, garlic and bay leaf to the pot. Cook the vegetables until soft, stirring often. The onions should be translucent.


Add the clam juice, heavy cream, chopped potatoes, thyme and flour to the pot. Cook the chowder for approximately 20 minutes until the potatoes are tender. You'll know the potatoes are done when a fork pierces them easily. Once the potatoes are done, remove and discard the bay leaf.


Add the clams to the chowder and season the soup with kosher salt and freshly ground black pepper to taste. When adding the salt, keep in mind that clams have a natural brininess, so don't go in with too heavy a hand. Let the New England clam chowder simmer for two minutes until the clams are firm.


For an authentic Boston clam chowder experience, serve the soup in bowls with oyster crackers. For presentation purposes, you can also sprinkle each bowl with a bit of chopped parsley.
The consistency of New England clam chowder can vary from very thick and creamy to thin and watery. There isn't a right way to do it; it depends on your preference. If you are in the mood for a lighter Boston clam chowder, all you have to do is eliminate one cup of the heavy cream in the recipe and substitute whole milk or half-and-half. You can also add a cup of chicken stock to further thin out the chowder.
Tip
New England clam chowder can be made up to a day in advance. Refrigerate the soup uncovered until it is cold, then cover and keep it refrigerated. Bring the clam chowder to a simmer on the stove before serving.