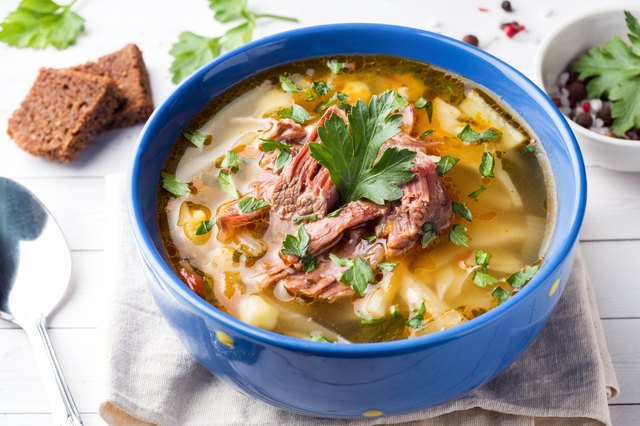 derketta/iStock/GettyImages
When you think of having a bowl of soup, cabbage may not automatically come to mind, but it should. Cabbage soup can be nutritious and the perfect antidote to a cold winter day. Plus, it is as easy to make on top of the stove as it is to toss into your slow cooker. You can be creative with what you put in it, and most recipes call for standard ingredients that are healthy, too, like carrots, onions, cabbage, diced tomatoes and spices. Cabbage soup is standard fare in Polish, Ukrainian, German, French and Swedish cuisines. It is a great affordable meal, easy to make and reheats easily for leftovers. Cabbage soup can be served with warm biscuits or crackers for lunch or for dinner.
Store Cabbage Soup in the Refrigerator
Like many other soups, cabbage soup should last four to five days in the fridge when it is placed in an airtight, sealed container. It is best to use glass instead of plastic to avoid staining. You should probably also make more than one batch at a time so that you can freeze the leftovers for savory soup weeks later without the hassle of slicing and dicing. Just make sure it is completely cooled before putting it in an airtight storage container in the freezer. It's a good idea to label and date the container, as well.
Making Your Cabbage Soup Is a Snap
Eating cabbage soup is a good way to put a dent in getting your required four to five servings of vegetables daily. Cabbage soup is normally made with white cabbage, which is pretty common and easy to find. Adding ingredients like bell peppers, onions, broccoli, spinach or other leafy greens enhances its flavor without adding fat or sodium.
For an added twist and extra protein, try adding beef, chicken, rice or potatoes. It also works well with tofu if you want to keep it vegetarian. Just cut the tofu into cubes. To give the soup a little kick you can add hot sauce, crushed peppers or a dash of cayenne pepper. To cut down on prep time, especially midweek, consider grabbing a bag of frozen, diced and sliced veggies. Just make sure to defrost and drain them before adding them to the pot.
Savory Cabbage Soup Recipe
Total Time: 45 minutes | Prep Time: 10 minutes | Serves: 6 to 8
Ingredients:
2 tablespoons olive oil
1 yellow or white onion, chopped
1 green pepper
3 cloves garlic, minced
2 stalks celery, sliced thinly
4 carrots, peeled and chopped
1/2 head cabbage chopped in 1 1/2-inch chunks
6 cups low-sodium vegetable broth (you can also use chicken broth)
1 teaspoon kosher salt
1/2 teaspoon black pepper
1/2 teaspoon dried thyme
1 (28-ounce) can fire-roasted crushed tomatoes
Directions:
Heat the oil in a large, heavy-bottom pot over medium-high heat. Add the onions and green pepper. Cook stirring them until soft, about 6 to 8 minutes. Add the garlic, celery and carrots. Stir the vegetables until they become soft and brown.


Add the cabbage to the pot and cook until it wilts, about two minutes. Add broth, salt, pepper, thyme. Stir in crushed tomatoes.


Bring to a boil, then reduce to a simmer and cook until the cabbage is soft, about 45 minutes.
Tip
For a thicker broth, add 3 to 4 tablespoons of tomato paste after adding the crushed tomatoes and stir well.