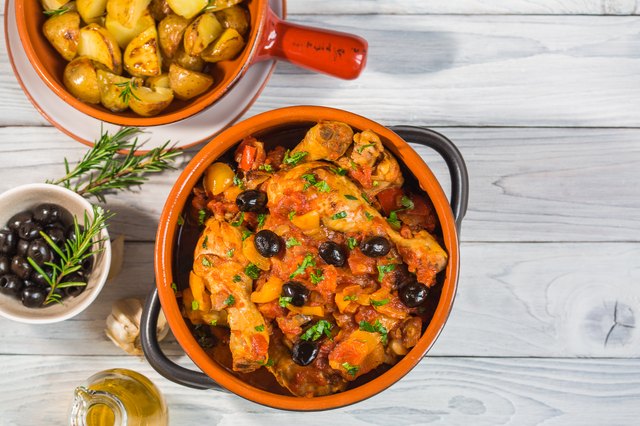 Chicken cacciatore (pronounced KATCH-aw-taw-ree) is one of those dishes that is quite simple to make, but that really wows your guests. Chicken cacciatore is a low-effort, high-reward dish that keeps on giving, especially when you make more than the recommended servings and freeze the leftovers. Cacciatore is the Italian word for hunter and was first introduced to the world by hunters sometime between the 14th and 16th centuries.
Tips for a Succulent Cacciatore
If you are going to add mushrooms to your recipe, never wash them, since they get slimy if you do and are harder to slice. Instead, wipe them individually with a damp paper towel. For a simple preparation, use chicken breasts, but for added flavor and a true authentic chicken cacciatore dish, use thighs with the bones in and the skin on. Just remember to tell your guests about the bones!
Cacciatore Your Way
Though it is said that the dish was most likely made originally with rabbit or other small game, nowadays it is standard to be made in a slow cooker with chicken thighs or breasts. And, like most stew-style dishes, you can add or take away ingredients to make this chicken cacciatore recipe your own. Serve over your favorite shape of pasta and sprinkle with grated Parmesan. Presto! You've got a hearty meal fit for a modern-day hunter.
Total Time: 120 minutes | Prep Time: 30 to 40 minutes | Serves: 4 to 6
Ingredients:
3 tablespoons extra-virgin olive oil
4 medium-large cloves of garlic, peeled and smashed, then chopped roughly
2 green peppers thinly sliced with cores and seeds removed
1/2 pound white button or crimini mushrooms, sliced
4 large breasts of boneless and skinless chicken diced into large bite-sized pieces or 8 chicken thighs, deboned with skin left on
5 (8-ounce) cans of chopped tomatoes
1/2 cup fresh basil coarsely chopped (dried basil works too, if you don't have fresh)
1 tablespoon dried oregano
1 tablespoon dried parsley
2 tablespoons kosher salt
1 tablespoon ground black pepper
1 (12-ounce) box or bag of pasta
Directions:
In a large saucepan over low heat, pour in the olive oil and let it warm. (This recipe can also be made in a slow cooker for a tasty Crockpot chicken thighs dish.)


Add the garlic, stirring until soft, making sure not to overheat, as the garlic will burn quickly and lose its flavor.


Add the sliced green peppers, mushrooms, a dash of the oregano and a dash of the salt and pepper; stir over medium heat and cook the peppers until slightly coated and softened, about five minutes.


Add the chicken breasts or thighs and stir over medium-high heat to evenly coat everything again. Cook until the outside of the chicken turns white, stirring consistently, about seven minutes.


Add the cans of tomatoes, most of the fresh basil (leave a few sprigs for garnish) and the rest of the oregano, parsley, salt and pepper. Turn the heat down to medium and mix all ingredients together.


Let simmer for about an hour, stirring occasionally and tasting along the way. You can even let it simmer for longer if need be, as the longer it cooks, the better it tastes.


Twenty minutes out from serving, boil the pasta and drain well.


Serve chicken cacciatore over pasta in pasta bowls with grated Parmesan and a few sprigs of basil.
Tip
Even if you are making this recipe just for yourself, prepare the recommended number of servings because you can freeze chicken cacciatore easily for later consumption. Better yet, freeze it in individual portions and you have got yourself ready-made meals after a long day at work.