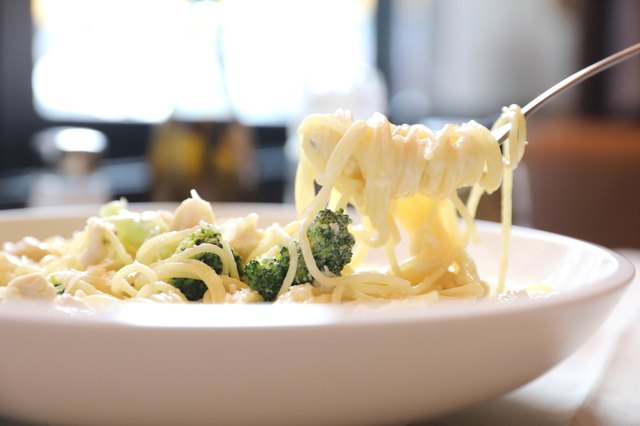 piyato/iStock/GettyImages
Whether you're cooking dinner after work on a busy weekday or you have ample time on a lazy Sunday afternoon, a bowl of rich, creamy chicken fettuccine Alfredo hits the spot. You could pick up a jar of premade sauce for your chicken Alfredo pasta at the grocery store, but Alfredo sauce is so easy to whip up from scratch with fresh ingredients that it won't seem like a whole lot of extra effort for the reward. In fact, a chicken Alfredo recipe is pretty simple to follow, and there are many ways to adjust it to taste, including sneaking in a little bacon.
Total Time: 30 minutes | Prep Time: 30 minutes | Serves: 4
Ingredients:
8 ounces uncooked fettuccine
kosher salt
2 tablespoons extra-virgin olive oil
2 boneless skinless chicken breasts
1/4 pound bacon
freshly ground black pepper
1/4 stick unsalted butter
2 teaspoons garlic, minced

1 cup whole milk
1 cup heavy cream
pinch of freshly grated nutmeg

1/2 cup freshly grated Parmesan cheese
1/2 cup peas (optional)
1/2 cup spinach (optional)
Directions:
In a large pot, boil water and salt to cook the fettuccine. When the water has boiled, throw in the fettuccine and cook according to the directions on the package. The pasta should be al dente ‒ tender but still somewhat firm. When the pasta is done, strain and set aside.


In a skillet, heat the extra-virgin olive oil over medium heat. Season the chicken breasts with salt and pepper. Cook the chicken for about eight minutes on each side. When the chicken breasts are
thoroughly
 cooked, transfer them to a bowl. Let the chicken breasts rest for a few minutes before slicing them into strips.<br><br>

In the skillet used to cook the chicken, cook the bacon until it's crispy and transfer to a plate. When it cools, cut the bacon into small pieces.


In that same skillet, melt the butter with the garlic, then add the cream, milk and nutmeg. Bring the mixture to a simmer and cook for two or three minutes.


Add the Parmesan cheese and stir with a whisk or wooden spoon until the sauce has thickened. If you want to get in a serving of veggies along with your carbs and protein, this is the time to add the peas, spinach or other vegetable.


Add the chicken, bacon and cooked fettuccine to the sauce. Toss until the chicken and pasta are completely and evenly coated with the sauce. Top with more Parmesan cheese to taste, and serve the chicken fettuccine Alfredo right away.

If you don't have fettuccine on hand, feel free to substitute another type of pasta in your chicken Alfredo recipe, such as spaghetti, rigatoni or even angel hair. And, if you have some time to spare, there are a few ways to jazz up chicken Alfredo pasta besides adding bacon. If you want to add texture, a layer of breadcrumbs tossed with butter is a good option.
Tip
Running low on time, but still want to attempt a chicken Alfredo recipe? Instead of cooking the chicken yourself, stop by your local deli for a rotisserie chicken; all you have to make is the pasta and the sauce.