You've probably heard of the trendy bone broth drink by now, popping up in supermarkets and local health food stores everywhere. Bone broth is known as a wellness elixir, to boost immunity, prevent illnesses and fight the common cold, and provide a rich source of protein and electrolytes to benefit skin, nails, hair, and metabolic health.
Plus, there are several types of bone broth to choose from, all offering distinct flavors and perks. Look to beef, chicken, and veal, in particular. Here are the best ways to use bone broth in your cooking, if you're sick of just sipping on it, as is.
Smoothie
"If you are looking to make a smoothie with the bone broth, my suggestion would be to start off with these ingredients: kale, granny smith apples, bananas, almond milk and a very gelatinous bone broth," says Chef Joseph Rizza, Executive Chef at one of Chicago's top steakhouses, Prime & Provisions. "To sweeten it you can add a little honey or any other favorite fruits and blend," he says.
It can be ready in seconds and works well for a morning breakfast or post-workout drink to rebuild damaged muscles. Plus, you can sneakily add it in and mask it with other flavors.
Dressing
"To make a dressing, using a bone broth is a little simpler than trying to create a delicious smoothie. Start with any kind of bone broth and mustard, honey, apple cider vinegar, olive oil, and salt and pepper to taste," he says.
Combine all ingredients, except the olive oil, in a blender. Once all the ingredients are blended completely, slowly add the olive oil to emulsify and make a vinaigrette. Season with salt and pepper, and you're set!
:I would serve over bitter greens, such as endive, radicchio and frisee," he says for a more refreshing, herbal note. This makes a lighter salad that's still packing some major nutrients.
Sauce
"This is the easiest one to incorporate a bone broth in. I would use a veal bone broth as it is perfect for making a nice reduction for any beef dish," he says. The use of bone breath here will bring out even more flavor in your dish.
Here's what to do. "In a pan, sauté some garlic and shallots in olive oil, add in a sprig of thyme, then include a 1/2 cup of your favorite red wine and reduce until the pan is nearly dry. Once that has been done, add 1/2 cup of bone broth and reduce until it is nice and thick. To finish the sauce add a tablespoon of butter," he says. "I suggest serving this sauce alongside your favorite cut of beef," he adds.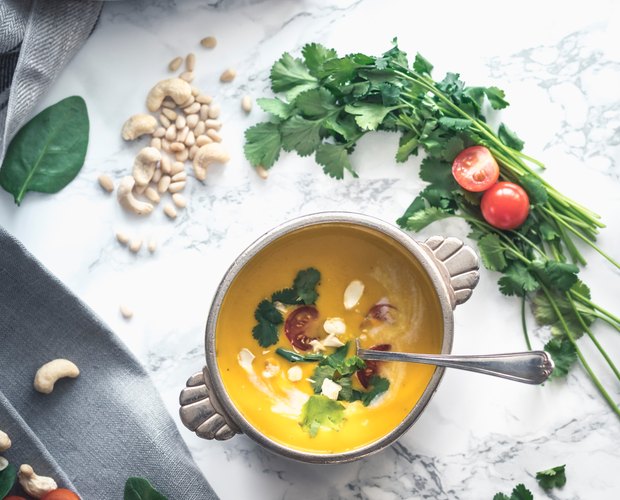 Soup
"This is an easy one. Go with your favorite soup, mine is French Onion which I recommend a veal bone broth," he says. Of course, chicken and beef bone broth work well for soups, too, so go with your preference.
There's nothing to do. Make your favorite soup recipe and add some bone broth to it. It'll bring extra nutrients and complement the savory flavors well.