If you're looking for a frozen, fruity snack that isn't too high in sugar (even if it's natural), and can still satisfy that sweet craving, we have just the thing. These frozen recipes are perfect for the spring and summer, when the temperature is warming up.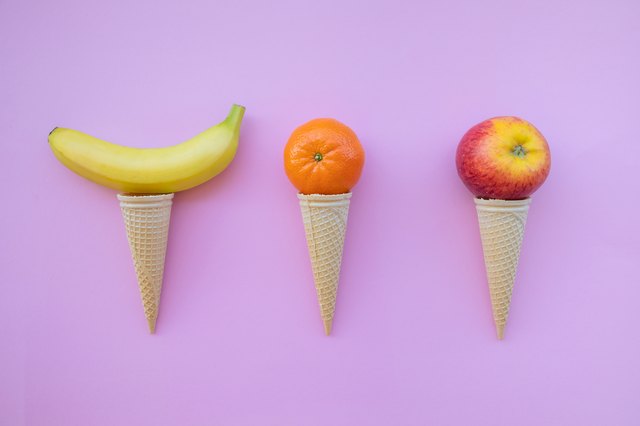 Plus, you can make a big batch and freeze, so you can easily have these frozen treats on hand for when you're in the mood for a chilling, refresher.
Here are five delicious and healthy snacks using fresh fruit that you can freeze and eat when you're looking to cool off, thanks to Maggie Moon, MS, RD, and author of The MIND Diet.
Frozen Balsamic Fig Treat
This frozen fruit treat has a great balance between sweet and savory, so it won't be overpowering on the sugar and can match well with more mild flavors, like a vanilla bean ice cream.
Blend frozen figs with almond milk and a spoonful of balsamic vinegar until it reaches desired consistency, says Moon. Then, pour it over Greek yogurt, ricotta, or low-sugar ice cream for more depth. If you choose the yogurt or ricotta, you'll also add in some terrific calcium and protein to keep you full.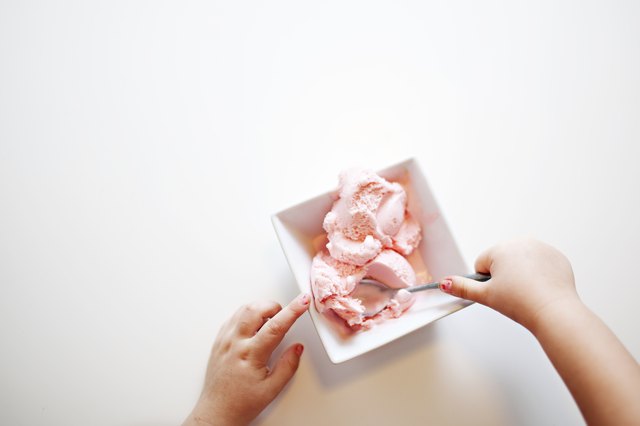 Frozen Banana Nice Cream
Forego traditional high-fat and high-sugar pints and make your own banana ice cream at home that's high in nutrients, like potassium and magnesium, and a bit of natural sweetener. Moon offers her banana nice cream recipe, which uses a touch of peanut butter powder for added flavor and protein and can be ready in 4 minutes.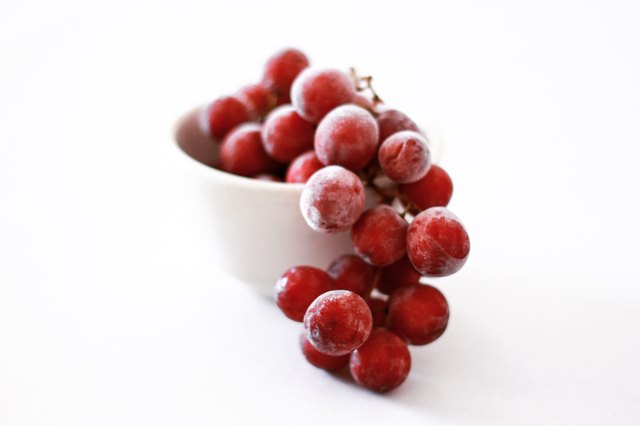 Frozen Grapes
It couldn't be any easier. Simply pop grapes in the freezer after adding some chocolate, and you've got a whole batch of frozen, sweet grapes for when you're looking for a low-calorie sweet snack or a dessert.
"Dip seedless grapes in dark chocolate and freeze on wax paper for a simple dessert," says Moon. You can also do this with other fruits, like strawberries, as well.
Fruity Ice Cubes
Want to cool down and satisfy your sweet tooth? Suck on a fruity ice cube or add to water to jazz up basic H20. "Make ice cubes with pomegranate juice and whole blueberries and add to sparkling water for a punch of color," says Moon. If you're buying a whole pomegranate, here's how to remove the seeds.
You can keep in a pitcher once done, or simply grab ice cubes from the freezer, as needed.
Frozen Pineapple Chunks
"Eating a whole fresh pineapple can be daunting. Once you've gone through the work of cutting away the peel and slicing it up, don't let it go to waste. Freeze what you don't think you'll eat, and keep the frozen pineapple chunks on hand for smoothies," says Moon.
You can also just snack on frozen pineapple, too. It's really refreshing. Or, for a blend of flavors, top with a cream base, like yogurt, cottage cheese, or ice cream.