To be honest, when it comes to not freaking the f*ck out during a busy day, I'm not so great at it. I tend to stress out majorly, and I've never been one to tune into yoga, meditation or breath work. In fact, it backfires: making me feel more stressed out and on edge. (PS: if you're one of the unfortunate souls like I am, here are a few ways to get into meditation when you really can't stand a second of it.)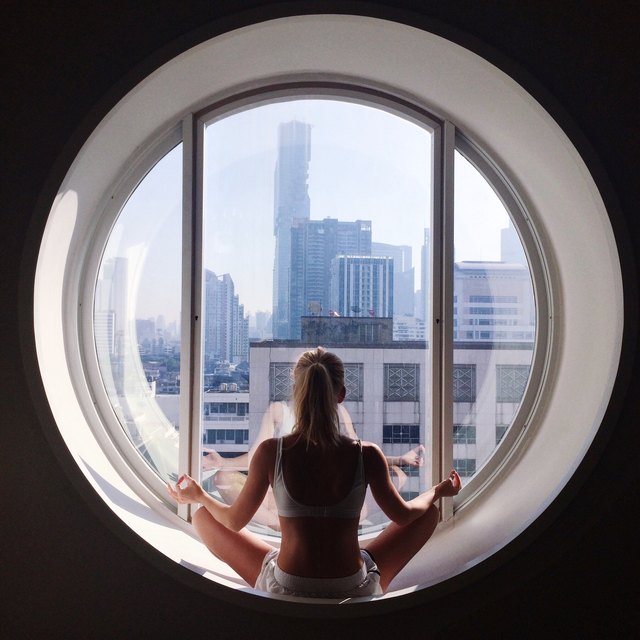 Generally, HIIT training is my go to, to keep me sane and less chronically stressed. Yet, there's only so much HIIT a person can do, and it's not helpful during those moments in the middle of the workday where I feel overwhelmed and need solace ASAP.
So, it got me thinking...what if I try breath work for a week whenever I'm feeling tense and see what happens? Will I become calmer instantly? Will it require practice but get easier with time? Will I become more anxious, much like with meditation and yoga? Oh, the suspense.
And So I Started
I was sent a necklace by Komuso design, a fashion-forward chain with a shaft pendant that's supposed to help slow and calm the breath and center the mind, to bring about clarity, focus, and ease.
Basically, you're supposed to wear the necklace during the day (which isn't so bad, as it's pretty trendy and versatile!), and when you start to get those mental struggles and stress-attacks, you do breath work using the shaft. It's helps to slow your exhale, which can help you re-center and feel present with your breath.
Whenever I felt stressed, which was at least 10 times each day, FYI, I channeled my negative, hectic energy into the necklace, inhaling and exhaling, eyes closed, for two minutes, each time.
I had tried to do five minutes, but I am not a patient person, and the extra length made me start to feel anxious, as though I were spending too much time on this exercise and could be missing important emails. To avoid it backfiring, I ditched those three minutes.
What Happened
Honestly, breath work isn't really for me. Some people are better able to center themselves, seek out spirituality, and enjoy meditative exercises. Believe me, I am jealous. I've tried desperately to love yoga and I just can't.
Yet, I loved the necklace and it did help me remember to try and calm my nerves and create balance in my body, to tame stress and regain clarity. For that aspect, it was effective, as I wouldn't have remembered without the chain around my neck.
Plus, it did slow my breath to some extent, and I felt more at peace doing the breath work than I would've felt had I been trying to breathe on my own. I also was able to take a moment to shift my perspective, thinking of a solution to a problem at hand or refocusing my energy on what was in front of me. It was like a reset: "Izzie. Chill out. You got this." I'd be interested to try the rest of the mindful connection.
I'd say that it's worth a shot. It won't work on everyone. It helped me a bit, but I wouldn't say I've been transformed. I am still probably a stress case who needs a round of burpees to feel relaxed. But that's just who I am. (I sound awesome, right?)