If you're getting a munchies attack late at night, or you're too tired at the end of the day to whip something up at home, you might reach for that phone to dial your favorite takeout.
As it's so easy, it's tempting to resist the urge, and those takeout orders can be pretty addicting. Just think of all that cheese or sauce on a pie of margarita pizza. (Though, here are a few ways to make your own healthier pizza at home.)
Let's face it, most takeout is pretty bad for you. They come in too large of portions, which you're likely to eat in one sitting rather than save for leftovers, and there are usually additives, sugars, and fats. Plus, if there's a creamy sauce involved, it's a major red flag, as that dish is likely heavily doused in it. For instance, a pasta carbonara from a restaurant can cost you 1,000 calories or so. (Luckily, here's a healthier version to slash calories.)
A solution? Besides cooking at home, find something healthy on the menu or make requests to slim down recipes. This way, you can still enjoy your favorite foods without hurting your waistline or energy level, and you can sit back in your cozy socks and relax while waiting.
Diner Food
Craving classic American diner food, like grilled cheese and burgers and fries? Resist the urge and go for the breakfast, says Maggie Moon, MS, RDN, and author of The MIND Diet.
"Go for the breakfast all day option, which is one of the easiest ways to manage what's on your plate due to the a la carte nature of it. Go for a couple of eggs over easy, whole wheat toast, and tomatoes," she says.
And, you can also load up on broth-based soups (not cream.) "Check out the soups too, there may be a fiber-rich bean chili or tomato soup on the menu," she says.
Chinese Takeout
Those beef and broccoli and chow mein bowls can have tons of calories, sugars, and fats, as well as MSG, an additive that can increase inflammation and worsen digestion.
Instead, "choose a stir-fry dish with tofu, seafood, or chicken, with a side of brown rice. Avoid anything breaded," she says. And, if it comes breaded or fried, like chicken or tofu, you can always ask for it to be steamed, instead. (Same with dumplings.)
"If you need an app, go for a hot and sour, chicken corn, or vegetable soup," she adds. Though, be warned: "These choices will be better-for-you, but they'll still tilt the sodium scales, so be sure to drink plenty of water," she says.
Mexican
You might love nachos and quesadillas, but think of all that cheese, as well as those fillings or toppings. Nachos are often piled sky high with all the fixings, like sour cream, avocado, beans, and cheese, and while avocado and beans are good for you, it's the portion size and the bed of chips that make it unhealthy.
"I'd do a shredded chicken or fish taco and my tip would be to top it off with fresh salsa and skip the second tortilla to save calories. If it's an option, vegetable fajitas with whole grain corn tortillas are also a good choice," says Moon. And, be careful not to get fried fish or chicken, either. Instead, get pulled, steamed, or grilled.
Or, get a salad with some chicken or steak on top. You can also get a salad for an appetizer to curb your hunger.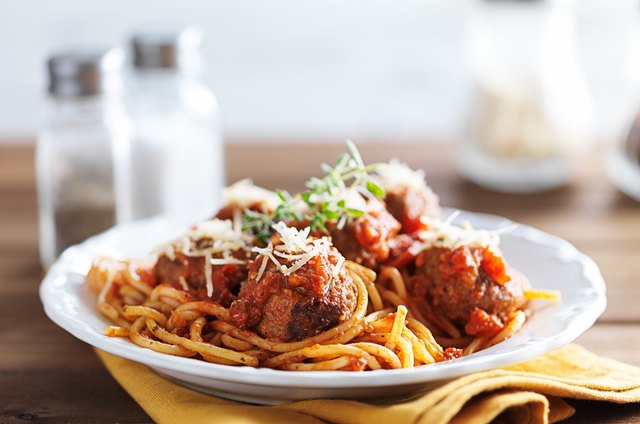 Italian Night
Pasta, pizza, breadsticks: It's carbo-loading when ordering Italian takeout. But, it doesn't have to be.
"You can usually find a decent chopped salad on the menu, and that's a good start. There may be some good veggie sides like brussels sprouts, cauliflower, carrots or squash, too," says Moon, so you'll want to get those. And, you can get them tossed with olive oil or steamed.
"For entrees, stick to pastas in red sauces versus creamy sauces like alfredo, if you're craving those carbs," says Moon. You will probably get more than a healthy serving's worth, so remember you can always pick your portions by making your own plate at home, too, or saving half for the next day as a leftover.
And, here's how to eat pasta without feeling bloated, too. Which we all want, right?
Thai
Opt out of those noodles. "Go for the papaya salad and a stir-fry entree with brown rice on the side," say Moon. Usually noodle dishes are heavy on the portions, so you're taking in tons of carbs and sauce.
"As in the recommendations for Chinese takeout, avoid anything breaded or fried. Most dishes are too large for one person, so definitely build yourself a smart plate that is mostly vegetables, then split the difference between the whole grain brown rice and stir-fry. Stash the rest in the refrigerator for another day," adds Moon.