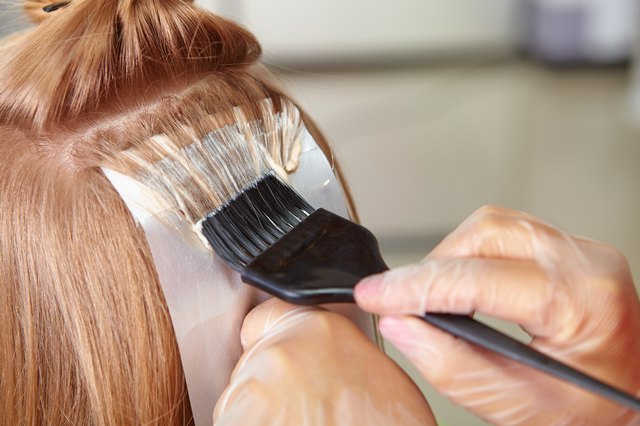 Bigen is a permanent hair dye that is activated by water. Unlike many other hair dyes, Bigen does not require the assistance of hydrogen peroxide to work, and does not contain ammonia. Bigen changes hair color without lifting color, and as a result causes less damage to the hair. Bigen only darkens hair color, and therefore is only available in darker hues. Bigen is a gentle alternative to other types of permanent hair dyes.
Function
Bigen functions by naturally adding color to the hair without lifting color. Lifting is the same as lightening hair color, and it is 100 percent unnecessary for making the hair darker. By eliminating the lifting process, Bigen doesn't produce as much damage to the hair.
Colors
There are 11 different hair dye colors offered by Bigen. There are nine different types of black and chestnut hair dyes, as well as two red shades. Some of the available dye colors are black brown, dark auburn, blue black, deep burgundy and rich medium brown.
Purchasing
Bigen is available for purchase at various American national chain stores including Wal-Mart, Sally's Beauty Supply and CVS drugstore. It also can be purchased through many online retailers.
Advantages
There are various advantages to Bigen, including it is simple to use. Bigen just has to be mixed thoroughly with water. Also, Bigen is entirely ammonia-free and doesn't need hydrogen peroxide to work, which means it does not damage the hair as much as other hair dye alternatives. Bigen has a very low pH, which means it is gentle to the hair. The hair color produced by Bigen also lasts for a long period of time, and its color results are easy to predict. There are no aggressive, strong odors when using Bigen, and it makes hair look thick, healthy and smooth.
Considerations
There are several main reasons why people use Bigen for their hair, including for darkening the hair, matching or making a natural hair color look better, covering up gray hair, and replenishing hair that has lost its luster or faded as a result of damage from chemicals, sea water, chlorine or the sun.
References