"A woman who cuts her hair is about to change her life," said Coco Chanel. For most women, though, the thought of making the big chop has crossed their minds, but they've never pulled the trigger. Making such a big change can be scary, forcing us out of our comfort zone. On the other side of this fear, though, comes a sense of confidence that could be life-changing.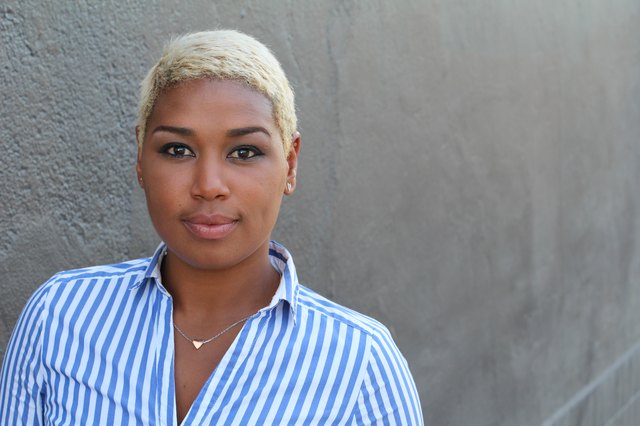 The Classic Pixie
A pixie haircut is a short haircut no longer than two inches. It's typically cut evenly on the back and sides and left slighter longer on top. A talented stylist can make a pixie haircut look fabulous on anyone, but this cut is most flattering on women with square, heart-shaped or oval faces. For square-shaped faces, a more messy pixie cut looks best because it contradicts the natural symmetry of the face. For heart-shaped faces, swooping pieces draw attention to the cheeks and make the hair-do really pop. As for oval faces, all pixie cuts look great. If you have an oval face, you can take advantage of the opportunity to experiment with piecey textures, heavy fringe and side cropping.
The pixie haircut is great for the modern woman. It's convenient, sophisticated and works for most hair types and textures. Additionally, think about all the time you'll save styling. With less length, you can blow-dry your do in a matter of minutes. Gone are the days of fussing with your cowlicks, teasing your roots for volume because your hair is weighed down by its length and smoothing dry ends with oil.
The Old-School Bob
The bob has been around probably longer than you have; and, let's face it, for good reason. This haircut has been the secret weapon for women who have fine hair and want low maintenance, and it has evolved immeasurably in the past decade. The bob is a short haircut where the hair is cut straight around the head below the ears but not quite touching the shoulder. Today you see inverted bobs, layered bobs and bobs with bangs – all of these varied by wavy, straight and curly hair.
To keep your bob looking as good as the day you got it, be sure to follow your stylist's after care advice. Unfortunately, short haircuts can look awkward during the growing out period. To fight this, make sure to get a trim every three to six weeks. This will keep your bob looking sharp. As far as styling, it's important to use different styling techniques for short hair than you would for long. If used correctly, a blow-dryer is the only tool you'll need to style a bob. Brush size and shape are key for blow-drying a bob. Round brushes work best to lift roots and give you flexibility to angle your hair how you want. Stick to a smaller sized brush if you want to add more curves to your bob and a larger brush if you're going for a straighter look.
Go with this haircut if you're seeking something sleek and sexy. In addition to looking sleek and sexy, you're doing something good for your hair. Sure, deep conditioning treatments and masks can heal damaged hair, but oftentimes your hair is just too far gone. Be confident! Be bold! Work up the courage to say goodbye to your damaged ends and let a skilled stylist sculpt a style unique to your face shape.
Something Different – the Lob
If you're afraid to commit to a bob haircut, don't fret. There's another way to take the haircut plunge. The lob is the longer sister cut of the bob. Still edgy and sleek, it can go all the way down to the shoulder.
The two main lob cuts trending now are the blunt lob and the layered lob. The blunt lob has no layers and can make the neck appear longer, making a bold statement. If you want to take this do even further, try curving the ends in when you style to add more dimension. The layered lob allows for more movement and texture. Part it to the side and you'll have a flowing and versatile look in no time.
Chop it All Off
A woman with no hair is a woman with nothing to hide. Regardless of the reason, women have been buzzing more and more.
A buzz cut got its name from the sound electric clippers make when creating this look. Once you go with a buzz cut, your face becomes more prominent; it's the only focal point. Because of this, people with softer facial features tend to look better with a buzz cut. On the other hand, if you have hard features, they can come across as harsh after a buzz cut.
It's important to take care of a buzz cut just as you would with any other do. Instead of nourishing your hair, you can nourish your scalp. Since your scalp in now exposed, it's more likely to become dry and flakey. You can combat this by using a cleansing scalp scrub followed by a natural oil treatment like argan oil, lavender oil or geranium oil.