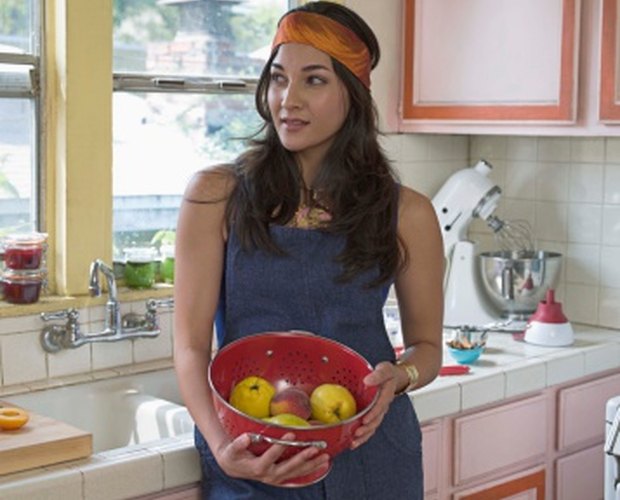 Jupiterimages/Brand X Pictures/Getty Images
Many countries or regions have traditional hairstyles, but in Cuba, a "traditional" hairstyle is about embracing your natural hair type. If your hair is long and dark, you should add volume, shine and curls; if your hair is naturally frizzy, then tie it in an updo or style it into an afro. Some Cuban celebrities are known for embracing their natural looks, while others choose to cover their hair altogether with habitual Cuban headwear.
Embracing Your Natural Hair
The Latin American community does not have one common hair type, because the people are so diverse, according to the Hairdressers U.S. website. Latin American hair is extremely varied and can range from frizzy to naturally curly or straight. Because the hair can also be hard to tame, traditional styles in Cuba are usually about embracing the hair's natural form. Longer hair, for example, is embraced by giving it volume and shine and sometimes curls -- this makes darker hair more sleek and striking. Cuban celebrities such as Maria Luisa Gil, Mayra Veronica and Vida Guerra have embraced their long, flowing locks, but darker-skinned Cubans with frizzy hair style it into an updo or afro.
Cuban Celebrity Eva Mendez
Cuban-American actress Eva Mendez is often seen as a pinup for traditional Cuban hair, according to the Hair Boutique website. One of her signature Cuban styles is a flirty ponytail with a full crown. The style is achieved by back-combing the hair on the front of the head to lift it up; the remaining hair at the front is then pushed down on the head and back toward the rear. The remaining hair is bunched into a ponytail at the middle of the back of the head, which is then pushed back toward the crown for extra volume. Back-combed bangs give the style some texture and extra size on an otherwise normal ponytail.
Do-Rags
Cuban headwear can be just as important as the hair it covers up. According to the Oxford English Dictionary, the word "do-rag" comes from the "do" in the word "hairdo." In Latin America, a do-rag is commonly worn as a large silk handkerchief or bandana wrapped closely over the head. Some Cubans might wear a Panama hat over their do-rag as well. Do-rags are considered traditionally Cuban, because they represent the headwear worn by African slaves who were brought to the Spanish-speaking plantations of America during the slave trade years. Other countries that traditionally wear do-rags are Jamaica, Puerto Rico and the Dominican Republic.