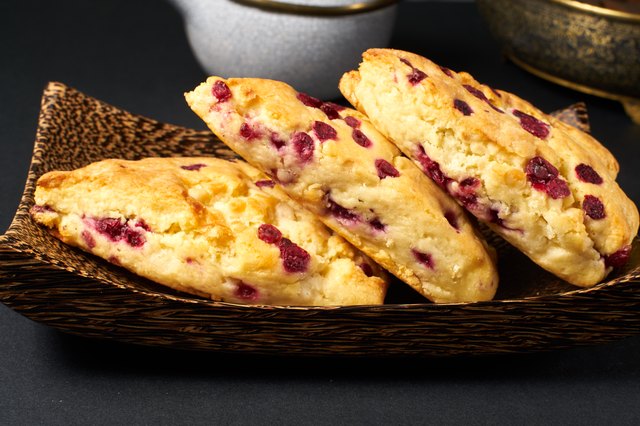 Kasemsan Chamrasamee/iStock/GettyImages
Biscuits are commonly served at meals in the United States, especially in the South, where they are considered a staple in the diet. They are easy to make from scratch and have become even easier thanks to refrigerator dough found in supermarkets. Scones, though thought of as a common part of English High Tea, actually originally came from Scotland. Since biscuits tend to be best served warm and the taste of scones does not change if they have been sitting around, you may find scones more available throughout the world in coffee shops and other breakfast outlets.
Ingredients
Both biscuits and scones contain flour, baking powder, shortening or butter, and sugar, though the sugar content is much higher in scones to give them a sweeter flavor. Scones have the addition of baking soda, which makes them heavier, and may also be flavored with fruits or nuts. Sour cream or heavy cream is sometimes added to scones to make them richer.
Preparation
The ingredients for biscuits are mixed together and then the dough is needed. A biscuit cutter is used to cut the batter into circles of about two and a half inches. They are cooked for approximately 10 minutes on a baking sheet that has been slightly greased to prevent sticking.
The dough for scones is not kneaded, it is rolled into a ball and then patted into a circle that is about seven inches, sprinkled with sugar, cut into triangles and placed in a baking pan covered with parchment paper. Since scones are larger than biscuits, they need to bake longer.
Serving
Biscuits are usually served as part of a meal, often with butter or margarine. In some areas, such as the southern part of the United States, biscuits are also served with gravy. Scones, on the other hand, are more often put out for breakfast or afternoon tea. They are served with jams and cream, which you can ladle on top of the scone.
Interesting Fact
In Great Britain, the term biscuit is also used to refer to what Americans call cookies. The treat dates back to the beginning of the 19th century when they were created for a French General. English biscuits are usually similar to shortbread. They are flat and buttery, but not too sweet. English style biscuits can also come in flavors, such as chocolate, toffee or hazelnut.