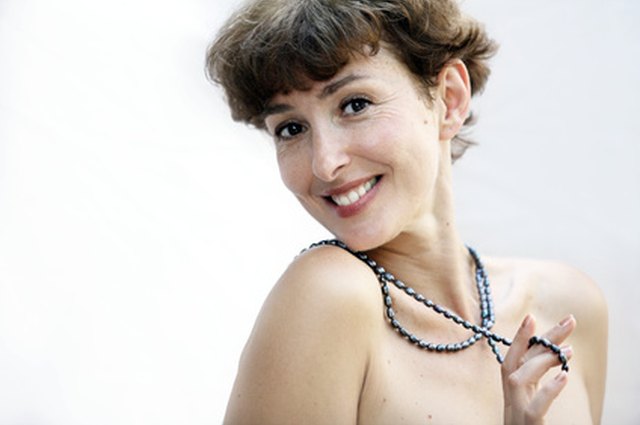 Mature woman with a pearl necklace image by Galina Barskaya from Fotolia.com
Tinted moisturizers provide lightweight coverage for the face, minimizing blemishes and uneven skin tone while providing a clean canvas for other makeup. Many mature women prefer tinted moisturizers to heavier foundations for their light feel and ease of application. For mature skin, a tinted moisturizer should always contain an SPF of 15 or greater, as well as special ingredients that reduce the appearance of wrinkles and fine lines. Many are on the market today.
Bobbi Brown Tinted Moisturizing Balm
Because older skin produces less natural oils, mature women need moisture in their beauty products. Longtime makeup artist Bobbi Brown's Tinted Moisturizing Balm helps dry to very dry skin with its moisture-rich blend of shea butter, squalane and glycerin. You can apply it by itself or on top of your regular moisturizer. It has an SPF of 25 to protect skin from wrinkle-inducing UVA and UVB rays. It comes in eight different shades and costs $50 for each 1 oz. jar.
Hourglass Illusion Tinted Moisturizer
Hourglass Illusion Tinted Moisturizer offers oil-free moisture to suit dry and normal skin types. It is also packed with clinical levels of anti-aging ingredients, making it a good choice for women looking to diminish the look of wrinkles. The patented Instalift complex contains a plant-based glycopeptide that visibly lifts and tightens skin, and Hyaluronic Filling Spheres hydrate skin and reduce the appearance of fine lines and wrinkles. Available in six shades, it comes with an SPF of 15 and runs $55 for each 1 oz. tube.
Cosmedicine Honest Face Skin Tint and Treatment
Antioxidants are known for their complexion-enhancing abilities, which is why Cosmedicine's Honest Face Skin Tint is classified not only as makeup but as a "skin treatment." For skin that is sun damaged, it provides potent antioxidants that reduce the appearance of wrinkles and fine lines, leading "Self" magazine to name it the best tinted moisturizer in 2007. It also features an SPF of 20 to prevent further sun damage. It is available in four shades and runs $35 for each 1.35 oz. tube.
Neutrogena Healthy Skin Enhancer Tinted Moisturizer
For mature women on a budget, Neutrogena offers a tinted moisturizer with big age-fighting benefits for a smaller price. The Healthy Skin Enhancer Tinted Moisturizer offers lightweight moisture with an SPF of 20. Its key age-fighting ingredient is retinol, a clinically proven treatment for smoothing wrinkles and fine lines by boosting cell turnover. Available in six shades, it sells at $11.50 for each 1 oz. bottle.