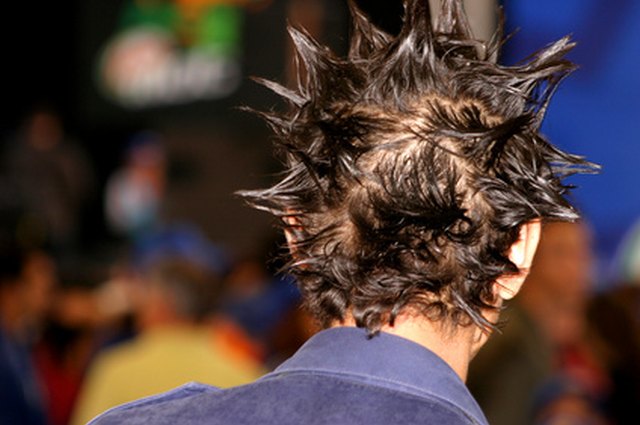 Spiked hairstyles almost always need to be aided by firm-hold styling products. Many types of gels and mousses are sold in drugstores and high-end beauty emporiums alike, but hairspray also helps achieve the spiked look, both alone and combined with other molding products. The product you choose will depend largely on your hair's texture and thickness.
Firm Hold Gel
American Crew Firm Hold Gel is an alcohol-free hair gel that is made especially for men (but that doesn't mean women who want spiky hair can't use it). It's formulated to prevent dryness and flakes, which can be a negative by-product of using excessive amounts of gels that contain alcohol. Gels work best on thicker, curlier hair, which might not get good results from mousse or hairspray.
American Crew Firm Hold Gel walgreens.com
Hairspray
Tigi Catwalk Enviroshape Firm Hold Hairspray is a clear, extra-strength hairspray that is best applied to dry hair. It is a fast-drying formula that can be used alone for naturally straight hair textures, or combined with a gel or mousse for thicker, wavy or curly hair.
Tigi Catwalk Enviroshape Firm Hold Hairspray asos.com
Mousse
Got 2b Smooth Operator Smoothing Luxury Mousse is a lightweight product that works as an effective hair spiking tool for wavy to curly textures, though the hair may have to be straightened before spiking. It's designed to smooth out hair in addition to molding it, so the mousse is ideal for taming frizz and promoting shine.
Got 2b Smooth Operator Smoothing Luxury Mousse drugstore.com