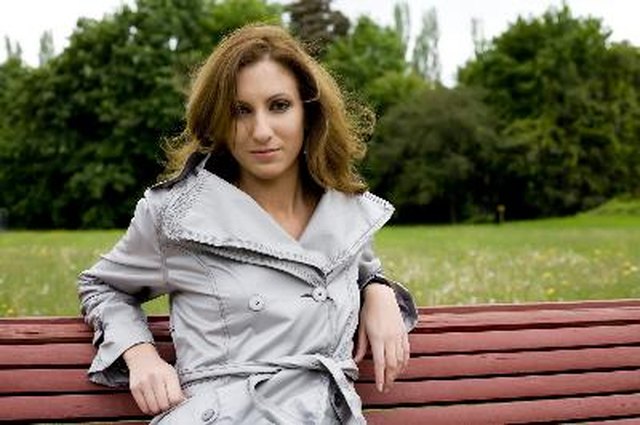 Woman Dressed In A Coat image by Kristina Afanasyeva from Fotolia.com
Traditional trench coats are double-breasted, khaki affairs, stereotypically worn by detectives in black-and-white. and vintage-style, movies. Modern trench coats can be single breasted, made of leather, brightly colored and feature different styles. Trench coat dresses fit like a regular trench coat above the belt; below the belt, they flare like an A-line skirt to the knees. They are usually khaki, and, despite the name, most women wear them as coats. This doesn't mean the trench dress has to be boring, though. Double- or single-breasted--either one looks great with most styles.
Create a casual look with your trench dress. If wearing a khaki, black or brightly colored trench, top a bright camisol--sun yellow, bright fuchsia or neon blue--and with an equally bright knit sweater in a contrasting color. Slip on dark-wash jeans of any style and shiny, bright or print ballet flats. Put on some chunky jewelry and leave the top three buttons of your trench open.
Wear a neutral gray or dark green trench coat dress with a sweater in warm colors--bright orange, scarlet, bright purple or spring green--with a camisole or thin tee in a contrasting color underneath. Pair medium-wash jeans with these more neutral colors along with brown or brightly colored shoes for a classy, casual look. Wear dangly earrings and one long necklace or two or three beaded necklaces of different lengths. Fold open your trench to let the your bright sweater show.
Make your trench dress look youthful and dressy with a clingy, knee-length knit sweater dress and lace-up boots. Choose a solid neutral for the dress, and pair it with a long bead necklace. Wear high-heeled boots for a more formal look and flat boots to add a touch of rebel style. Cinch your tank dress completely closed and don a low-sitting hat for classy warmth until you get indoors, where you can hang your trench dress in the closet and reveal your outfit.
Wear the trench dress by itself. Pair with brightly colored high-heeled boots, metallic earrings and a wide leather belt. Scrunch up the sleeves a little, and your outfit is complete. Add a camisole and knit shorts underneath for warmth if it's cold, and remember not to take off your coat. If you don't have colored boots, wear brown boots with a khaki or brown trench dress and black boots with a black or grey trench dress. You can wear either black or brown with a colored trench.