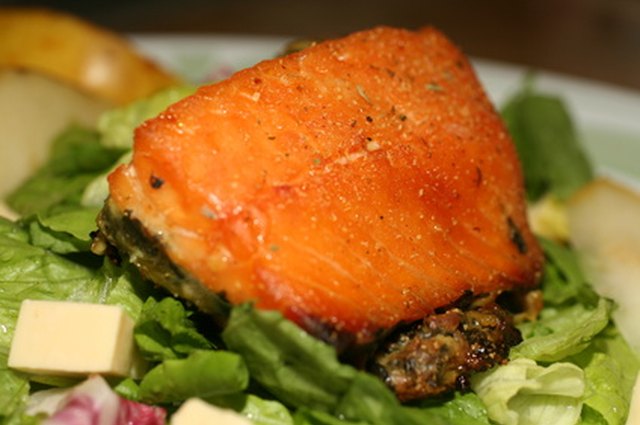 Salmon appeals to many people not only for its delicious taste, but also for its health benefits. According to The World's Healthiest Foods, with its omega-3 fatty acids, fresh wild salmon can help improve your circulatory and immune systems when you add it to your diet. Instead of using canned salmon in recipes, substitute fresh salmon for a delicious alternative. You may decide the extra effort is worth the improved flavor.
Rinse the salmon fillet under cool water and pat it dry with paper towels.
Tear off a large sheet of aluminum foil and place the salmon fillet onto the aluminum foil.
Brush the salmon fillet generously with olive oil and sprinkle salt and pepper over the salmon fillet (to taste).
Wrap the aluminum foil around the salmon fillet to seal it tightly. Preheat the oven to 350 degrees F and place the wrapped salmon fillet into the oven.
Bake the salmon fillet for approximately ten minutes, then check the salmon for doneness. If the salmon fillet appears a lighter color and flakes easily with a fork, remove it from the oven.
Allow the salmon fillet to cool and then place it into the bowl. Flake the salmon fillet with the fork to break it up into small pieces.
Substitute 1 lb. of flaked, baked salmon for 16 oz. of canned, drained salmon.