Brandy is a distilled drink made from fermented grape juice. Other brandies are typically made from fermented grape juice and then flavored or alternatively made from another fruit all together. Some brandies, such as cognac, are location specific while other brandies, such as applejack, are fruit specific. Because of the versatility and multiple varieties of brandy, the spirit can be incorporated into a large number of different cocktails.
Claret Punch
Dissolve 1 cup of powdered sugar into 4 cups of soda water.
Mix 2 cups of lemon juice into the water and sugar mixture.
Sample the mixture, and add lemon juice, water or sugar to taste.
Add three bottles of claret, 12 oz. of your favorite brandy, 4 oz. of apricot brandy, 4 oz. of bourbon, 8 oz. of orange liqueur, 2 to 4 cups of your favorite iced tea and stir vigorously.
Garnish the punch with orange slices, or an ice mold made of orange slices if you prefer, and enjoy. This punch will serve approximately 30 people.
Leetsdale Peach Brandy Tea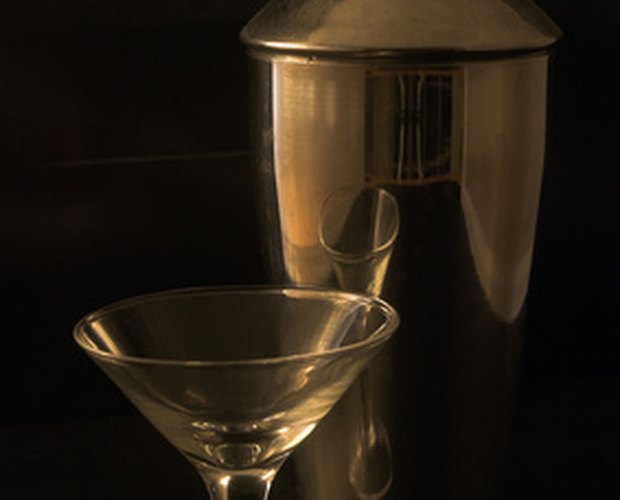 small martini glass and shaker image by Bo Widerberg from Fotolia.com
Combine 1.5 oz. of brandy, 1 oz. of peach brandy, 6 oz. of cold, freshly brewed iced tea and a few drops of fresh lemon juice.
Place the above mixture in a drink shaker with ice and shake.
Line the rim of a martini glass with lemon juice and then swirl the glass in sugar to thoroughly coat the rim of the glass.
Strain the mixture directly into the martini glass and garnish with a lemon or an orange.
Tip
Depending on how strong you want your cocktail, you will want to add more or less tea. Make sure to use freshly brewed tea that is thoroughly cooled in order to obtain the best results.
For a variation on an old favorite, try making long island iced tea and substituting rum for your favorite brandy.
Warning
Brandy is a very strong spirit and it should always be consumed responsibly.