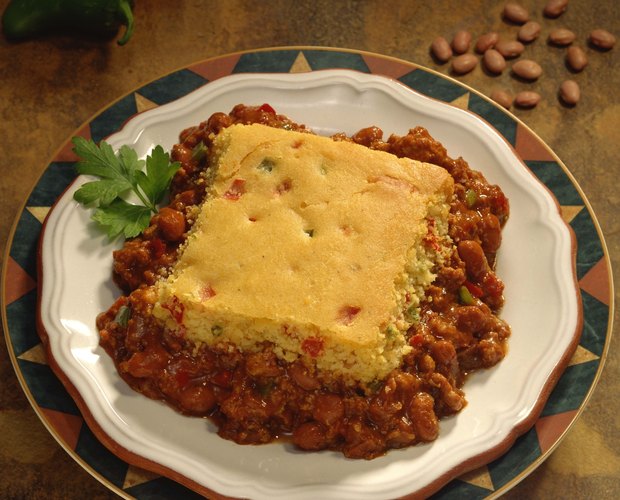 Jupiterimages/Comstock/Getty Images
Many different recipes for cornbread exist due to personal tastes, but almost all contain cornmeal, which gives it a yellow hue. The addition of baking powder helps the cornbread rise, and adding Bisquick makes it light and fluffy instead of dry and crumbly. Bisquick contains flour, shortening and other baking products that many cooks use to create biscuits, pancakes and dough. Serve your moist cornbread warm with a favorite soup or enjoy it by itself.
Combine 2 cups of Bisquick, 5 tablespoons cornmeal, 1/2 teaspoon baking powder and 3/4 cup of white sugar into a bowl. Stir the dry ingredients to mix them well.
Add a cup of milk and two eggs to the bowl and stir until the ingredients become wet.
Pour a cup of melted butter into the bowl and stir to mix with the other ingredients.
Heat the oven to 350 degrees Fahrenheit. Pour the cornbread batter into a 9-by-12-inch pan.
Bake for 35 to 40 minutes. Insert a toothpick into the center of the cornbread and, if the toothpick comes out clean, remove the pan from the oven.
Tip
Pour the cornbread mixture into muffin tins to create muffins.
Warning
Avoid eating raw cornbread batter because uncooked eggs can cause food-borne illness.