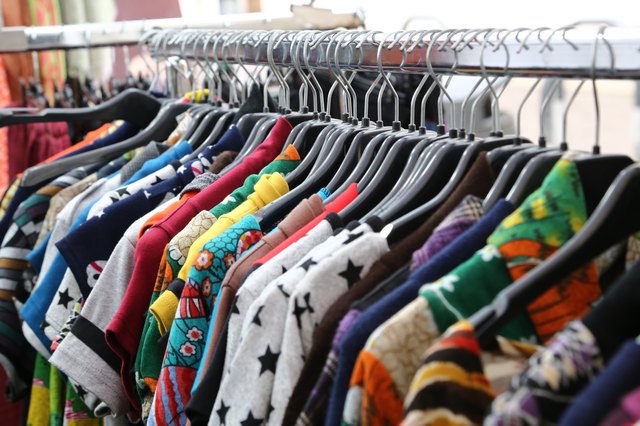 Let's say you are going to an 1980s-themed party, and you need something cool to wear to give off that 80s vibe. You are also a do-it-yourself type of person who wants to make an 80s T-shirt that will stand out in the crowd and make other partygoers truly remember the decade. Well, here are nine simple steps for making an asymmetrical 80s T-shirt that Madonna would have proudly worn as the ultimate material girl.
Make a trip to your local thrift store and purchase a long-sleeved, round-necked T-shirt that is two to three times bigger than your normal size. Choose any color that inspires you, but black is always an 80s classic.
Turn the T-shirt inside-out. Run it through the regular wash and dry cycles of your washing machine and clothes dryer. This will clean and soften the garment and keep colors from fading.
After the T-shirt is completely dry, lay it out flat on a hard surface. Use scissors to cut the sleeves off the garment about three-fourths of the way up each sleeve. Discard the cut fabric.
Leave the T-shirt flat on the hard surface. Use a ruler to measure about two inches on both sides of the rounded collar band. Mark those measurements with chalk. Then cut two 1-inch slits on the chalk marks. Make sure to cut the slits through both the front and back fabric of the T-shirt.
Use scissors to cut a semi-circle around the front of the shirt from slit to slit. Repeat this process on the back of the shirt from slit to slit.
Try on the shirt in an asymmetrical fashion, leaving one shoulder bare and one shoulder covered by the T-shirt. Decide how much fabric that you want to cut off the bottom of the shirt, and mark that measurement with chalk. (Cutting two to three inches off the bottom of the shirt usually looks best.)
Take off the shirt. Lay it flat on a hard surface. Use scissors to cut off the bottom of the shirt that you marked with chalk. It does not matter if your cut line is somewhat uneven; this is part of the charm of your snazzy 80s-inspired shirt. Discard the unwanted fabric.
Now apply any 80s-inspired, iron-on decals to the front of your shirt using a iron. Examples of decals include rainbows, guitars, rock bands and flowers. Add beads, glitter and any other embellishments using hot glue.
Don your one-of-a-kind 80s T-shirt. Either leave one of your shoulders bare as you wear the T-shirt asymmetrically or put on a netted tank top underneath.