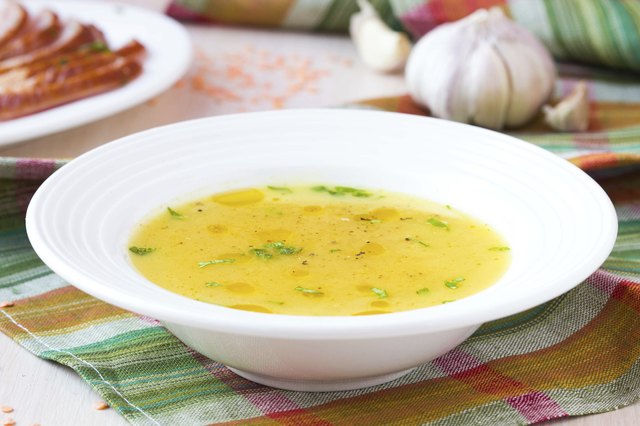 Maria_Lapina/iStock/Getty Images
Canned soup provides the base for a go-to meal on busy nights, but the flavor in store-bought soups can be bland or one-dimensional. Improve the taste of any type of canned soup with some strategies to boost flavor. Add flavorful ingredients before heating the soup, during cooking or on top once it's on the table.
Add An Aromatic Stock
A reduced stock made from cooking onions, celery and carrots with a bay leaf and fresh thyme gives condensed canned soup a flavorful base. Cook the vegetables, and a chicken carcass if you have one, in water until the liquid reduces by half. Strain the liquid and use it instead of water in the soup. For canned soup that doesn't require additional liquid, cook the aromatic stock down even further and add 1/4 to 1/2 cup to the soup.
Zest It Up
A splash of acidic vinegar, lemon juice or wine brings the flavors in canned soup to life by adding another dimension and deepening its flavor. A mere tablespoon in a large pot of soup is enough to boost its flavor without adding the taste of the acidic ingredient. Enliven the flavor with other zesty or spicy ingredients. Add spicy chipotle peppers in adobo sauce, spicy sausage or a pesto made with minced garlic and fresh basil.
Add More Goodness
Sauteed portobello or porcini mushrooms give canned mushroom soup more meaty umami flavor than it has on its own. Sauteed chopped asparagus pieces also add flavor to mushroom soup, and oven-roasted tomatoes add flavor to tomato soup. Meat soups benefit from freshly cooked ham, chicken or beef, and chopped kale or spinach add freshness in either a vegetable or meat soup. Any soup also gets more flavor from curry paste or a few tablespoons of sherry or cream.
Top It Off
For crunchy texture and flavor in canned soup, add croutons sauteed in butter and garlic, cubes of crispy fried tofu or fresh chopped onions. For a creamy and cool contrast for thick soups, add a dollop of sour cream or creme fraiche, a type of French thickened cream similar to sour cream. A grating of Parmesan or Romano cheese adds flavor, as do chopped fresh herbs, such as basil, cilantro, thyme, oregano or scallions.