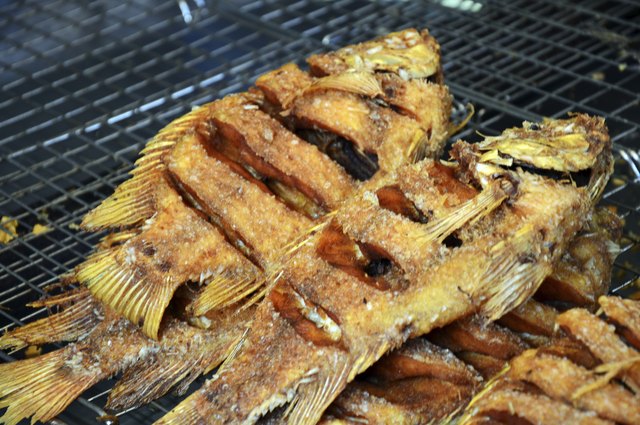 Tuayai/iStock/Getty Images
Sustainable, fast-cooking and with the ability to take on just about any flavor you put to it, tilipia is the "everyman" fish. Filleted or whole, it does especially well on the grill if you take into account its fragility. With careful turning and proper grilling techniques, it won't break. Or, wrap each fillet in heavy-duty foil with small slits cut in it before placing it on the grill. If you have a fish basket, use it; the basket holds everything inside so there's not spatula-turning involved.
Seasoning and Prepping
Tilapia fillets don't require much prep; marinate them in an oil-based marinade for up to two hours or simply season them to taste with herbs, spices, salt and pepper two hours before grilling them.
Whole tilapia take a bit more work, but nothing daunting. Start with a cleaned and scaled tilapia -- sometimes you find them head-on, sometimes head-off, but you prep both the same way. Soak the tilapia in saltwater for about 30 minutes to clean it; then pat it dry inside and out with paper towels. Slice three or four vertical slits along the belly of both sides of whole tilapia, about 1/4 inch deep. Season the fish inside and out with salt and pepper and add aromatics to the slit in the belly -- garlic, fresh herbs, butter, lemon slices -- anything works. If you don't grill with a fish basket, tie the tilapia once or twice around the belly with twine. Lastly, coat the tilapia with olive oil.
Outdoor Grill Setup
You can set up the grill several ways to cook tilapia as long as one segment of it measures between 400 and 500 degrees Fahrenheit, or medium-high. If you plan to cook steaks, burgers or vegetables along with the tilapia, push the coals to one side of the charcoal tray after they ash over to create a direct and indirect side. You'll cook the tilapia, whole or fillets, directly over the coals at first, then move it to the cooler segment of the grill after it sears on on one side.
If you want to devote the whole grill to cooking the fish, just spread out the charcoal in an even layer in the tray. Set gas grills to medium-high. Heat the grill for about 30 minutes with the lid closed before laying the tilapia on it.
Cooking Tilapia Outdoors
Let the fish sit at room temperature while the grill heats; cold fish tends to stick. Oil and season the tilapia to taste and lay it on the hot side of the grill. Grill tilapia fillets for 2 to 3 minutes and turn them over. Cook for an additional 2 to 3 minutes, or until the fillets pull away cleanly from the grill.
To grill whole tilapia, place it on the grill and cook it for 4 to 5 minutes on each side.
Indoor Grills
Indoor grills and grill pans share little with their outdoor counterparts, but you follow the same guidelines when cooking tilapia on them: Set the grill to medium-high and grill fillets for 3 to 4 minutes on each side and whole tilapia for 4 to 5 minutes on each side. If you're using a grill pan, heat it over medium-high heat for 5 to 6 minutes before starting the tilapia.
Tips From the Pros
If you're cooking other foods, such as steaks and vegetables, while you cook tilapia, either cook the tilapia after or on a separate part of the grill. Even with careful cleaning, you often get traces of a fishy taste on other foods when you cook them in the same spot as the fish.
Only turn the the fish, whole or fillets once during cooking -- tilapia is fragile.
If you have trouble with sticking, slice an onion in 1/2-inch-thick slices, put them on the grill and place the tilapia fillets on the onions. The onions make a little stand that holds the fish over the grates.
Use an oiled fish spatula when grilling tilapia, never tongs. Fish spatulas are thin and make turning fish easy.
Tilapia should have an internal temperature of 145 F when ready; it isn't a fish that does well served medium-rare.