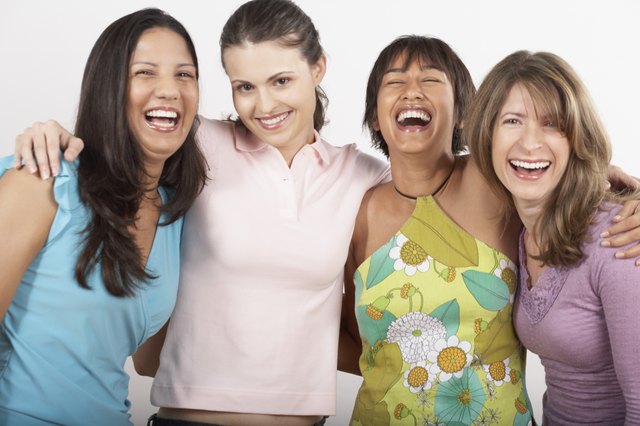 Jack Hollingsworth/Photodisc/Getty Images
Few clothing items offer the versatility or flattering lines of a classic polo shirt. Originally designed for men, women's polo shirts are available in a variety of cuts, colors and fabrics. Appropriate for a morning at the beach to a casual, upscale luncheon late in the day, the polo shirt lends itself to any occasion. Dressing your polo shirt up isn't difficult, instead the hardest part will be choosing which style to wear.
Give a richly colored, fitted polo instant sophistication by donning a pearl necklace and earrings. Choose a polo color that illuminates, not blends with, your pearls such as eggplant, royal blue or cranberry. The fitted cut also prevents your accessories from drowning in excess fabric.
Tie a brightly colored scarf around the collar of a pastel polo and pair with a tailored khaki skirt for an understated, yet elegant, look. Button the your polo to the top and wrap the scarf under your collar. Bring both ends over your shoulder and secure the scarf in a basic, knotted bow.
Layer a white or cream stretch polo beneath a navy blazer and fitted slacks for a traditional, well-tailored appearance. Fold the polo collar up over the blazer lapels or leave it popped. Complete the outfit with a single dazzling piece of jewelry such as a large pendant or bright, beaded necklace.
Tuck a fitted, dark-colored polo into a pair of tailored pants and top off your outfit with a decorative, fashionable belt. The contoured cut of a fitted polo lets it slide smoothly into your slacks without causing or folding bunching around the waistline. Wear a traditional-colored, dark polo, like hunter green or navy, for a classic look, or choose deep turquoise or azalea for a younger, vibrant style.
Tip
A fitted polo is easier to dress up than a roomier version that has lots of extra fabric. When in doubt, opt for fitted. Update your polo collection periodically to keep the fabrics and colors in optimal condition. Worn, faded polo shirts distract from your outfit.