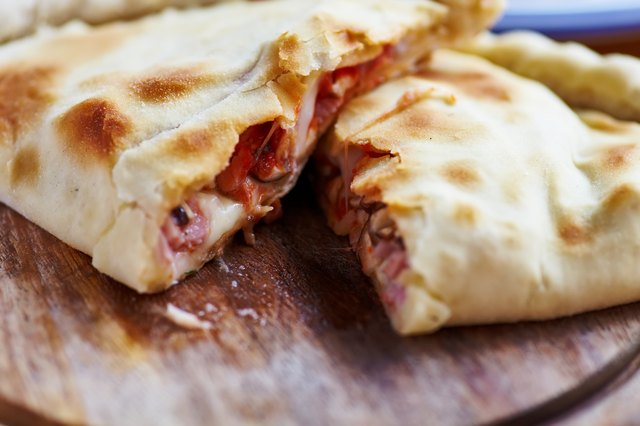 Stromboli is an Italian dish that is stuffed with meat and cheese. Because of its similarity, stromboli is bound to become a favorite of pizza lovers. Give yourself 1 1/2 hours to prepare, assemble and bake the stromboli. The easiest part of stromboli preparation is the baking process. Choose your baking temperature and cook times depending upon the type of oven you use: conventional or commercial.
Home (Conventional) Oven
Preheat traditional ovens to 350 degrees.
Prepare a baking sheet by lining it with parchment paper or greasing it with baking spray. Set the baking sheet aside while you assemble the stromboli.
Place the stromboli on the baking sheet. Place the baking sheet in the preheated oven.
Set the timer for 25 minutes. Check the stromboli for doneness when the timer goes off. Look for the crust to be a golden brown. Cook the stromboli in 5 minute increments until the crust is golden.
Remove the stromboli from the oven, using oven mitts. Place the pan on a protected, heatproof surface.
Commercial Oven
Preheat commercial ovens to 500 degrees.
Use a pizza paddle to put the stromboli directly in the oven.
Bake the stromboli for 5 to 6 minutes.
Open the oven door. Rotate the stromboli 90 degrees with the pizza paddle. Cook the stromboli for an additional 3 minutes.
Remove the stromboli from the oven using a pizza paddle. Place the stromboli on the serving platter.