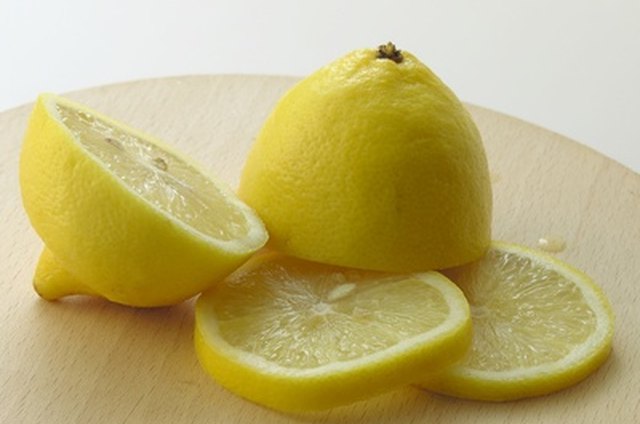 If you enjoy using lemon soap, but don't want to spend a fortune buying it, you can make your own right at home. According to OrganicFacts.net, the lemon oil used in lemon soap has a variety of benefits. It is an antiseptic, astringent, and disinfectant, and it can also help to ease problems associated with skin disorders. Whether you want to make bar lemon soap or liquid lemon soap, you can make them in no time right at home.
Lemon Bar Hand or Bath Soap
Cut a 1-lb. block of plain soap into 4-inch by 2-inch squares. Put the chunks in a microwave-safe bowl. Use any type of unscented soap you would like.
Heat the soap squares in the microwave for 30 to 60 seconds. Watch the soap while it is in the microwave to make sure it doesn't foam over.
Take the bowl out of the microwave. Add 1/8 tsp. turmeric powder and stir until the soap has dissolved completely. Add 2 to 4 drops of lemon essential oil and stir again.
Use a zester to grate 1 tsp. lemon zest. Add the lemon zest to the mixture and stir well to combine.
Pour the mixture into soap molds. You can buy various shapes of soap molds from most craft stores. Let the mixture set in the soap molds at room temperature for 45 minutes, then place in the freezer for 10 minutes before removing the bar soaps from the molds.
Lemon Liquid Dish Soap
Pour 2 cups liquid castile soap into a mixing bowl. Add ½ cup cool water and stir to combine.
Stir in 1 tsp. fresh lemon juice. Alternatively, use 2 drops of lemon essential oil.
Add ½ cup white vinegar and stir well. You can also add five drops of any other essential oil of your choice for added fragrance.
Pour the lemon dish soap into an empty squirt bottle and shake well.
Tip
If you don't have soap molds, use a mini loaf pan or small muffin tins to make your bar soap.