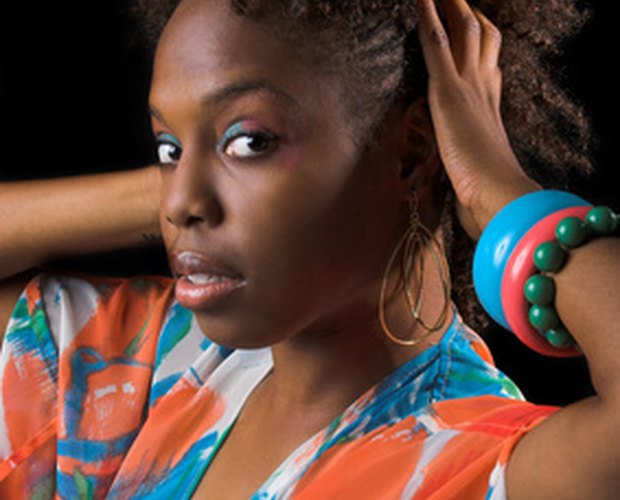 African woman posing image by Elke Dennis from Fotolia.com
Coarse hair is often frizzy and hard to manage. Because the strands aren't smooth like naturally straight or wavy hair, they can become unruly through the day resulting in a frizzy or untamed look that doesn't give the professional, put-together appearance you're looking for. Dealing with and managing your coarse hair becomes easier once you know the right hair styles and cuts to use with your hair.
Layered Cuts
Cutting your hair into layers thins it out and allows it to lay flatter against your face or your shoulders. Layering works with any hair length and can be used to create a longer, flowing style or a stylish bob. Avoid cutting the hair into short layers which could make it look thicker. Instead, use longer layers. If your hair is still too thick, ask your hairstylist to thin your hair out with thinning shears. Straighten your hair with a straightening iron or hairdryer and round brush to make it lay flatter.
Braids
Braids look great on black women and can last for months. Micro braids are tightly wound and keep your strands from flying away. If you don't want to commit the time or money involved with micro braids, pull your hair into french braids or into a braided pony tail. Even though these braids are looser, they give you a classic look and work perfectly all day long to keep your hair tamed.
Afro
Take advantage of your coarse, frizzy hair and comb it out into an afro. Afros work best with shorter hair because of the volume of the hairstyle, but can also be done with longer hair. With an afro, you don't have to worry about your hair misbehaving throughout the day, and you can use the unruliness of your hair to create a great look.
Relaxed Hair
Relaxing your hair is like putting a perm into your hair to straighten it instead of making it curly. Relaxing your hair causes it to sit flat and allows you to style flat, slick hairstyles unachievable with your naturally coarse hair. Like micro braids, using a perm to relax your hair lasts for a few months and gives you a manageable look with minimal styling from day to day.