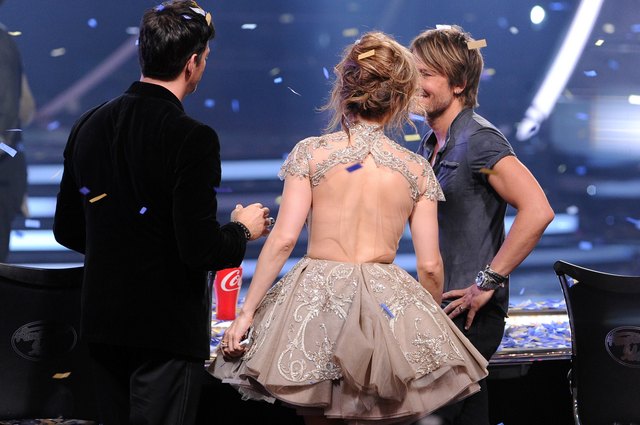 Kevin Winter/Getty Images Entertainment/Getty Images
There's something sultry and unexpected about a backless dress that shows plenty of skin -- and not in the usual spots. In order for your dress to shine, the styling -- including your hair and makeup -- needs to be spot on. Rock your sexy dress with a hairstyle that helps highlight your bare back; updos are an obvious choice, but you can mix up your look depending on the cut of your dress.
Top Knot
A top knot is an elegant updo that showcases the long line of your bare back in a backless dress. Pull your hair into a ponytail at the top of your head, paying careful attention to placement -- your bun will wind up wherever the pony is. Secure your hair with an elastic, and use a comb to tease your tresses for extra volume in your top knot. Wrap the end of the ponytail around the base and secure with bobby pins. If you have fine hair, use a bun-making kit with a Styrofoam donut that you wrap your hair around to help bulk up your bun.
Messy Updo
For a romantic look, choose a messy updo to show off your back. The style works best on textured hair, so use a curling iron to add waves to straight locks. A little dry shampoo also helps add texture. Start by clipping up the hair at the front and top of your head, and secure the rest in a messy bun at the nape of your neck with an elastic. Grab small sections of hair from the front and twist them back into the bun, pinning in place. Alternate sides until you reach the top. Backcomb that section for added volume before twisting it and pinning it back into your updo.
Soft Waves
With a backless dress that plunges all the way to your waist, wear your hair down in soft, loose waves or curls for a sexy option that keeps your lower back visible. The key is using the right size curling iron -- opt for a barrel that's at least 1-inch wide, going large if you have thick locks or lots of hair. Start curling 2-inch sections at the front of your hair away from your face with the iron at a 45-degree angle. As you move toward the back, hold the curling iron vertically so the top is just above your ear. Let the curls cool completely before using your fingers to gently separate them. Apply hair spray to your tresses to make sure the waves last all night.
Half Up, Half Down
If you're wearing a really plunging backless dress but don't want too much hair to distract from your exposed back, try a half-up, half-down do as a compromise. Go for the standard style by pulling back the top section of your hair, but before pinning it in place, tease the hair at the roots to create major volume at the crown of your head. You can curl the hair that remains or leave it straight for a sleeker look.