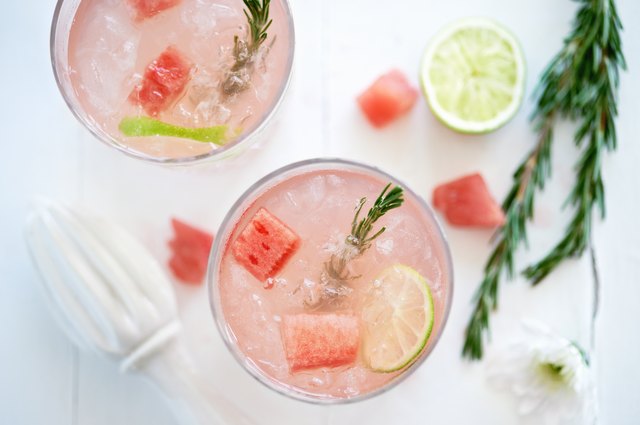 With its clean, neutral flavor, vodka is probably the most versatile of all spirits. It's compatible with sweet, sour and bitter tastes, and it packs a heady alcoholic punch while also letting mixers with more complex flavors shine. Further, vodka holds its own in cocktails spanning the spectrum from light, bubbly spritzers to knock-your-socks-off shooters. Whether your personal definition of a good mixed drink is a sophisticated classic, a creamy, dessert-like indulgence, something minimalist with a low calorie count or a frozen concoction made with the contents of your fruit bowl, there's a great vodka drink out there for you.
Consider the Classics
Vodka is showcased in many classic cocktails, some more than a century old and certainly passing the test of time. These are drinks whose names you've heard a thousand times – the martini, black Russian, cosmopolitan and Long Island iced tea among them – and they're famous for good reason. The best-known of all is probably the vodka martini, a very simple combination of three parts vodka to one part dry vermouth. Some versions add a dash of bitters, and a garnish of lemon or olives is a must. Use your best vodka for this one. Then there are all the variations of a martini, including the dirty martini with a dash of olive brine, the lemon drop with triple sec and lemon juice, and the appletini and other fruit-centric 'tinis.
The cosmopolitan uses plain or citrus vodka, fresh lime juice, an orange liqueur such as Cointreau, and a splash of cranberry juice, just enough to make it blush. Serve this decidedly (but by no means exclusively) girly cocktail in a chilled martini glass. Vodka brightens up any brunch with its essential role in a bloody Mary, basically vodka and tomato juice seasoned to taste with Worcestershire sauce, salt and pepper and optionally hot sauce. Don't forget the celery stick stirrer. For something stronger and more fitting for a late night drink, try the black Russian, simply vodka and a coffee liqueur such as Kahlua. Add cream and it becomes a white Russian, or use milk (dairy, soy or nut) to lighten it a little. There's nothing light about the Long Island iced tea, in which vodka is joined by gin, rum and tequila to tilt the spirit-to-mixer ratio heavily against lesser portions of triple sec, simple syrup, lemon juice and mere splash of cola. Drink just one and avoid open flames in the aftermath.
Try Something Light and Refreshing
Vodka tonic – just vodka topped up with tonic water – and vodka soda – the same with soda water, are the simplest mixed drinks with vodka, both ideal when you want something unfussy and refreshing without venturing to the sweet side. Both benefit from a squeeze of fresh lemon or lime. Flavored soda waters and regular or diet sodas such as cola and lemon-lime soda make nice, easy mixers for vodka, as well. Use just a splash or top up a tall glass, depending on your mood. Mix vodka with ginger beer (or ginger ale if it's all you can find) and add a lime wedge to make a Moscow mule, which is traditionally served in a copper mug.
Several fruit juice mixers for vodka can be refreshing instead of cloying. Try vodka with cranberry juice, a lime wedge and ice, which is technically called a Cape Cod or Cape Codder. A greyhound is vodka and grapefruit juice, preferably in a Collins glass. Salt the rim of the glass and it becomes a salty dog. A little more complex is the sea breeze, made with vodka, grapefruit juice, cranberry juice and a lime wedge.
Keep It Sweet
If you like your cocktails sweet, try fruity vodka drinks like the screwdriver, just vodka mixed with orange juice. Add a little Galliano, an Italian liqueur made using a proprietary blend of herbs, and a screwdriver becomes a Harvey Wallbanger. With some peach schnapps added, it's the unfortunately-named hairy navel. You might want to lighten the sugar contents of any of these mixed drinks by cutting the fruit juice with soda water. A sweet, fruity vodka drink ideal for a boozy brunch or any celebration is the Bellini, which features vodka and peach puree topped up with Champagne or Prosecco. If your sweet tooth prefers creamy cocktails to fruity ones, try the mudslide, a blend of vodka, coffee liqueur and an Irish cream liqueur such as Baileys. It's topped with a little heavy cream, but you might use dairy, soy, almond or coconut milk, instead.