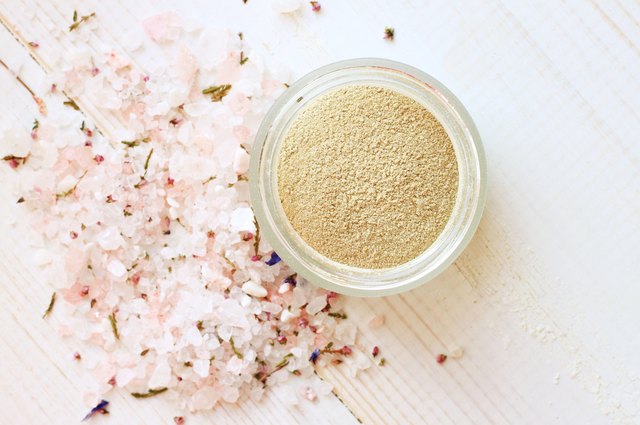 Tattoo removal may be readily available, but let's face it, laser treatments destroy tattoos and your savings account in six to eight treatments. Fuller's Earth Clay can be used as a home remedy for fading artwork for half the price of removal products such as Tat B Gone and Wrecking Balm. Originally designed to pull heavy oils out of sheep's wool, today Fuller's Clay is used as a beauty tool to blast away blackheads, sunspots and unwanted ink. Here is a guide to getting the best results in the shortest time.
Getting Started
Mountain Rose Herbs offers a 1-lb bag of the clay for $7.50. The website requires a minimum purchase of $10, so consider picking out an herbal oil to moisturize the area around the tattoo during the removal process. Lemon works as an accelerate when mixed with the clay, so purchase some fresh lemons or lemon juice, too.
Applying the Product
Step 1: Wash the tattoo area throughly. Be sure to scrub away all dead skin cells. Pat dry. Step 2: Since the clay is a bleaching product, use a small mixing container that you plan to throw away after removing the tattoo. For a smaller tattoo, mix 2 tbsp. of clay with 1 tbsp. water. The paste should be thick, so add more clay if it seems runny. Step 3: Add one drop of lemon juice to the paste. Too much acid will irritate the skin, so be careful. Step 4: Apply the paste to the tattooed area. Be sure that the entire area is well coated. The wet clay will be light gray in color. As the paste dries, it will turn white. Step 5: When the paste is fully dry, rinse off with warm water. Do not rub or use a loofah to remove the clay. The skin will be very sensitive, and scrubbing can irritate the area. Step 6: When your skin has dried, expect a little redness or irritation. If the area is very painful, discontinue use. Gently pat on a heavy moisturizer with vitamin E and aloe to help soothe the tattooed area.
Obtaining Desired Results
Repeat this process once a week. If you are a tough cookie, and your skin is free from irritation, this product can be used up to twice a week. Don't expect immediate results, and be patient. This process is ideal for fading an old tattoo, but may not fully remove it. The bleaching qualities in Fuller's Clay lighten the top layers of skin, and will gradually break down the pigments under the skin. Your body will naturally generate healthy, tattoo-free skin cells. Lightening the tattooed area may affect your surrounding skin area, giving that area a lighter skin pigment. As your body produces new skin cells, that area will be restored.
References