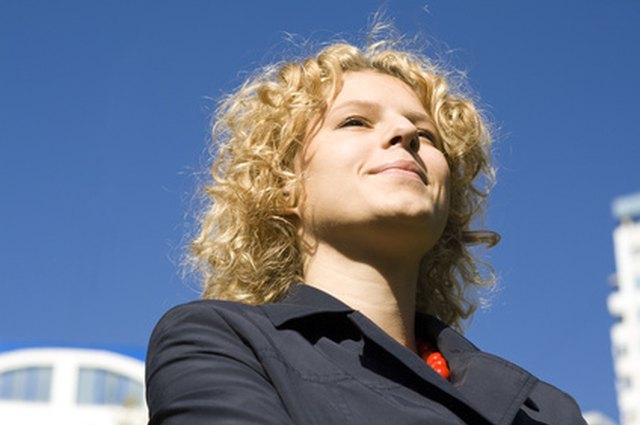 Portrait of business women image by Dmitry Sosenushkin from Fotolia.com
Women who work in the world of business know how important it is to look professional at the office or at networking events. Small adjustments to the daytime business attire can be made to carry any look into the evening. The first impression is mostly formed considering all things in view, such as attire and personal grooming, which makes knowing what to wear for evening business ventures an absolute must.
Tops
Choose shirts that highlight your femininity, but in a classy way. The classic white button down shirt can be paired with almost any jacket, vest or camisole and look remarkable. It is very versatile and should be in everyone's closet. Sweaters, such as fashionable cardigans or argyles, are great choices. They can highlight your figure and can often go from the office to the restaurant with a simple change of accessories.
Dress Pants
Dress pants have endless possibilities, especially black dress pants. It can be paired with almost any blouse or shirt as well as shoe. It also has the ever so popular slimming effect for those who want to appear as though they have lost a few vanity pounds. Black dress pants often come in a variety of materials, some more comfortable than others. Be sure to pick a fabric you will be comfortable in for hours. Otherwise you may be miserable at that two-hour business dinner.
Dresses
Dresses can be a fun and comfortable way to dress for success. Be sure the neckline is not cut too low and that you have a jacket, blazer or cardigan to wear if there are no sleeves on the dress. Dresses, as with any article of clothing, should be worn in a professional manner; thus, see-through, tight-fitting, short dresses should always be avoided.
Footwear
Many women love their shoes and some will even formulate an outfit around their choice for the day. Certain shoes are appropriate for evening business attire, while others should be left in the closet and saved for a business luncheon. High heels are fine, as are certain flats or slip on dress shoes. Closed toe/closed heel pumps are fashionable and look great when paired with a classy knee-length black dress. Flip flops, tennis shoes and most sandals have no a place in a professional setting, no matter the venue.
Accessories
Accessories make the outfit come alive and show off your sense of style. Keep it simple and elegant. Too many bangle bracelets or colorful rings can be a distraction in an important meeting. Choose makeup that brings out your natural beauty, and save the smoky eye shadow, flashy fingernail polish and bright, glittery lip color for your nights out on the town.
What to Avoid
Avoid wearing undergarments with colors or prints that may be seen through the outside garment. Consider a thong or pantyhose to eliminate obvious lines. Purchasing comfortable and appropriate undergarments is a great investment. Also make sure to avoid showing too much cleavage.
Ensure the clothing you choose is free from stains, strong odors and wrinkles. Check with your company's human resource department for a copy of the dress code.