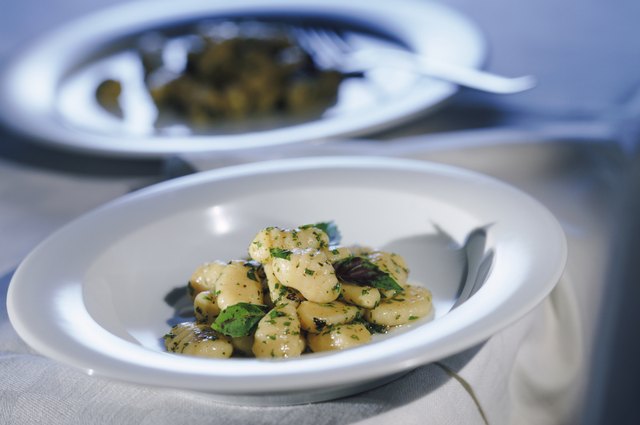 John Foxx/Stockbyte/Getty Images
Cavatelli and gnocchi are both examples of the many types of Italian pastas, but are formed differently, usually made with different ingredients and pair well with different types of sauces. Cavatelli works for for those who love the slight bite of an al dente pasta cloaked in sauce; for the fans of a tender, pillowy texture in dumpling form, gnocchi are the way to go.
Composition and Form
Cavatelli are typically made from a standard pasta dough of fine "00" flour or semolina flour mixed with water, a pinch of salt, and egg yolks. This dough is then rolled out, cut into small discs and folded over to resemble a hot dog bun, leaving a little hollow space in the middle. Gnocchi are most commonly made from potatoes, but can also be formed from regular pasta dough. Typically, mashed potatoes come together with flour, salt and occasionally egg in 1-inch tubular dumplings.
Cooking Methods
Cavatelli can often be purchased dried and packaged at the grocery store or a European super market. To cook dried cavatelli, place in boiling salted water and cook for 8 to 10 minutes, or according to package directions. If you're making or purchasing fresh cavatelli, they take less time to cook. Due to the thick, tender texture of gnocchi, they are not commonly dried and packaged. Fresh gnocchi are often available in stores. To cook either purchased or fresh, homemade gnocchi, boil in salted water for 4 to 5 minutes, or until they rise to the top of the water and float for about 30 seconds.
Getting Saucy
Cavatelli's folded-over form might remind you of the "nooks and crannies" of English muffins. The little hollow under the fold creates a space for whatever sauce you're serving it with to work its way inside. This makes cavatelli a smat choice for chunky sauces, like a bolognese, because pieces of meat or vegetable can integrate seamlessly with the pasta. Gnocchi are round with no crevices for chunks of sauce to "hide," so are better served with a smooth sauce that coats the dumplings. Like a baked potato, potato gnocchi goes well with butter and cheese. Both browned butter and cheese sauces work well for gnocchi.
Serving Suggestions
For gnocchi in a smooth butter or cheese sauce, incorporate proteins or veggies by chopping into pieces roughly the same shape as the gnocchi. Then, the freshly cooked gnocchi and any meats and veggies can be briefly sauteed together to combine before being tossed in sauce. The uniform shape of all the pieces allows them to stay well-integrated while serving. Cavatelli in a chunky bolognese or ragu already have meats and veggies incorporated into the sauce. Shredded cheese and fresh, chopped herbs make a classic and complementary finishing touch for the dish.
References