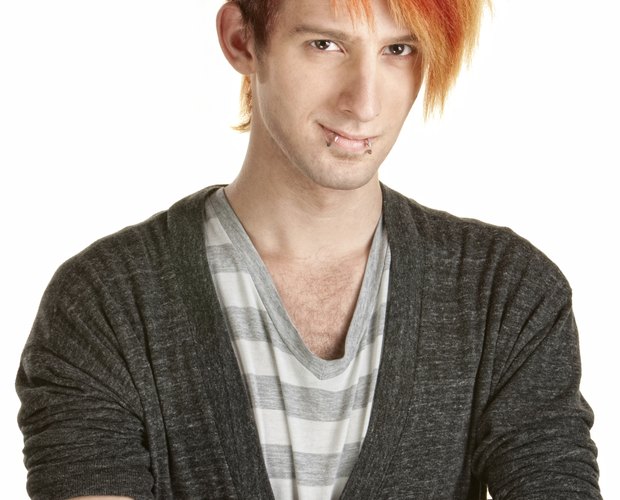 CREATISTA/iStock/Getty Images
The 1980s went through a variety of styles for both clothing and hair, with tastes switching drastically in the mid '80s. While the early 1980s were more subdued in both design and color, the mid and late '80s were known as being brightly colored -- think neon -- and teeming with large shoulder pads and big hair. A fun fashion period, the 1980s still serves as inspiration for some fashion trends today.
Shoulders and Waists
Big shoulders came into fashion in the mid '80s, becoming a mainstay of fashion by the latter half of the decade. Shoulder pads were associated with the idea of power dressing. Inspired in large part by the nighttime soap "Dynasty," men and women's fashion featured big shoulders -- courtesy of shoulder pads -- that were highlighted by cinched-in narrow waists or drop waists. While originally popular for women pursuing a business career, oversized shoulders became the norm for even day-to-day wear.
Bright Colors and Sportswear
Starting in the mid '80s, neon became the norm. These day-glow colors were commonly used for skintight leggings and pants, minis and ruffled skirts. Pairing neon-colored sweaters with light acid-washed jeans were a prevailing trend for women. As the rise of sports fashion grew, the trend for branded sportswear by industry trendsetters Reebok and Nike became the height of fashion. Track suits became regular daytime wear for adults as well as children. By the late '80s, a backwards baseball cap with a pair of Air Jordans were essential items for a fashion-conscious closet.
Bold Accessories
Accessories were key to late '80s fashion. Brightly colored sunglasses, bandanas, capes, bangles and bracelets were common. While shiny plated gold was used, neon-colored plastic was also widespread. Leg warmers -- as part of the sportswear fashion trend -- were worn regularly as everyday wear. In a sharp contrast to the sporty trend, lace was a recurrent theme in women's fashion, especially in the form of fingerless gloves or scarves. The lace motif was also translated to footwear, where jelly shoes with cutouts were a popular women's choice.
Big Hair to Match
Like with clothes, hair in the '80s was also brightly colored and big. Hair for both men and women had many layers and techniques like perms and crimping were used to increase volume. The big hair trend was epitomized by mohawks, where hair was gelled and slicked up from the sides to create a straight, stiff comb of hair that ran from the temple to the nape of the neck. For women, large hair bows, scrunchies and butterfly clips for hair were commonly used accessories.