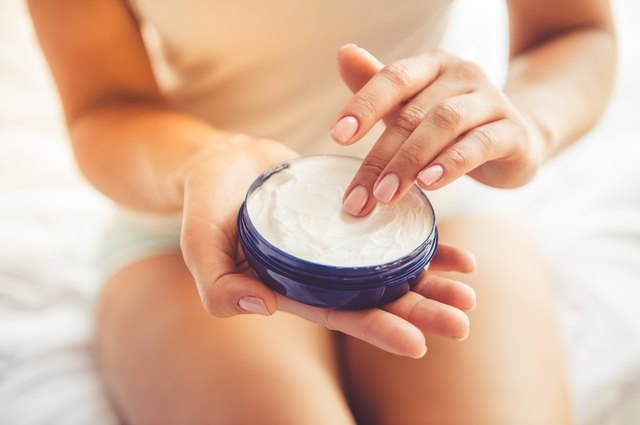 When dry skin begs for moisture, knowing whether to reach for a soothing lotion or a thicker body butter can make the difference between quenching and saturating. Here's out best advice on when to use which!
Dry Skin
Dry skin, also called xerosis, is caused when the skin cells lose essential moisture. This is often caused by dry heat, such as a home furnace, and repeated removal of the skin's oily lipid layer, which protects skin from moisture loss. Frequent washing is a usual culprit as well.
Lotion Benefits
Lotion is a plentiful commodity found in most homes. Lotions rely upon a combination of oil and water bound together through the use of an emulsifier. Whether it's a moisturizing lotion to relieve dry skin or a medicated lotion, such as calamine lotion, it tends to go on smoothly, absorb quickly, and leave no greasy residue.
Body Butter Benefits
Body butter generally includes three basic ingredients: shea butter, a vegetable oil, and coconut oil or butter. There are different types of body butter as well. You can choose from whipped, waxless and even a bar-type. The whipped butter usually includes beeswax, which makes the formula harder to absorb but longer lasting, while the waxless and bar-type are more easily absorbed into the skin. Body butters are thicker than lotion and tend to leave a film on the surface of the skin.
Which to Choose
The fact that most body butters use shea butter, an all-natural, healing vitamin A cream, makes them ideal for skin damaged by dryness, wind or chapping. A body butter will provide superior, longer-lasting emollients, making it the choice when dry skin also needs intense moisture and healing. If added moisture is all that is necessary, a lighter, more easily absorbed lotion would be adequate.
Avoid Dry Skin
To help avoid dry skin, run a humidifier in the winter, opt for lukewarm baths and showers instead of hot, avoid drying soaps and body products, especially deodorant soaps, and keep irritating fabric off skin. Whenever possible, choose a fragrance-free detergent for laundry.
References