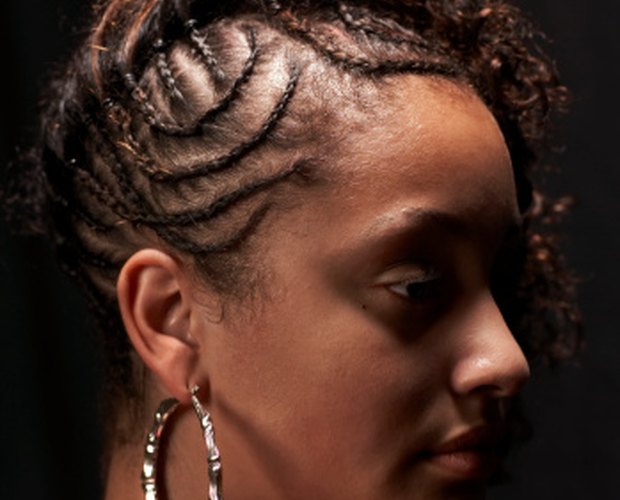 Thomas Northcut/Lifesize/Getty Images
Afro kinky hairstyles are distinctively African-American, bold-patterned hairstyles for those who like to make a grand appearance on any scene. In addition to making an overall fashion statement, African-American kinky hair styles represent a symbol of strength, beauty and pride in African-American hair and culture. A variety of Afro kinky hairstyles exist for self-expression as well as artistic expression.
Braids
Braids, including microbraids, are a quite popular style of Afro kinky hair. Depending on the type of variation a person wants, the style is one of the easiest to create. By taking three strands of hair and weaving them into rope-like design, you can produce braids. Braids can also be created to hang loosely away from the scalp or to remain horizontal to the scalp. They can be designed into four large sections or several tiny sections. However, braids should not be braided too tightly against the scalp so that they cause pain or injury to the head.
Cornrows
Cornrows are similar to braids and create an appearance of rows in a cornfield. Although not as popular as in the 70s and 80s, the hair style is still ideal today due to the many variations to which the style can be adapted. Cornrow braids are created parallel toward one another, with some sort of attachment such as beads at the end. Cornrow braids can include a variety of patterns, including curving lines, zigzags, spirals and whorls.
Dreadlocks
Dreadlocks are developed by twisting, coiling and knitting the hair into sections called locks. However, make sure the hair is free of any residue in order to speed up the long growth and development process. Otherwise the knots can come loose when backcombed. This Afro kinky hairstyle takes patience to form into mature locks, usually two to three years. Maintenance is critical, involving several techniques, such as yarn wrapping and palm rolling.
Curls
Curls are another kinky Afro American kinky hair style. Curls can be either tight or medium. The expert use of the fingers is important. Run fingers through the hair to create the desired styles as well as volume. However, when cutting curly hair, the appropriate technique must be used in order to avoid producing frizz.
Extensions
When an individual wants to lengthen her hair, she may consider choosing extensions. The method of attachment includes a variety of techniques, such as weaving additional hair into natural hair or attaching wefts to the hair with adhesive or metallic rings with clamps. Sewing the additional hair into positions is another method of attaching extensions.
Other Kinky Hairstyles
Other African-American kinky hairstyles, which are variations of the most popular styles, include twists, relaxed and natural forms. Nevertheless, all styles are designed to symbolize the uniqueness of the African-American culture as well as to establish an identity. Many styles must be carefully created, which sometimes take several hours.