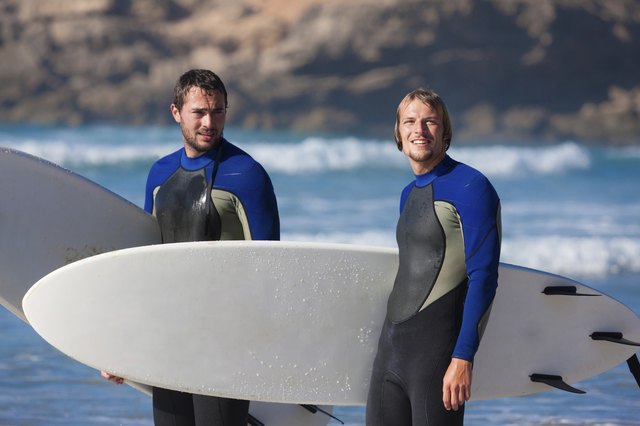 kzenon/iStock/Getty Images
Move over scuba gear -- the same stretchy fabric that keeps surfers and divers warm and dry is hitting the runway. Increasingly used in a variety of fashion applications, neoprene fabric has gone from wetsuits to high fashion, having made its way into the looks of leading, cutting-edge designers.
Brief History
In 1931, DuPont invented neoprene as a synthetic rubber. Its resistance to water, oil and heat made it a good candidate for industrial use in hoses and insulation. In the 1950s, neoprene began being used to add warmth to wetsuits. In the late 1980s and early 1990s, neoprene made waves as swimsuit companies began incorporating it into their styles.
Neoprene Fabric Use in Fashion
This thin, elastic fabric is form fitting while adding cushioning for shoes, bags and tech cases such as laptop sleeves. It is also scratch-resistant and weather-resistant, making it ideal for using in jackets and outerwear. In 2014, neoprene made headlines as fashion magazines such as "Elle" proclaimed it the must-have material of the summer. Neoprene fabric has many stylish uses and can be seen in dresses, skirts, blouses, trousers and sweaters.