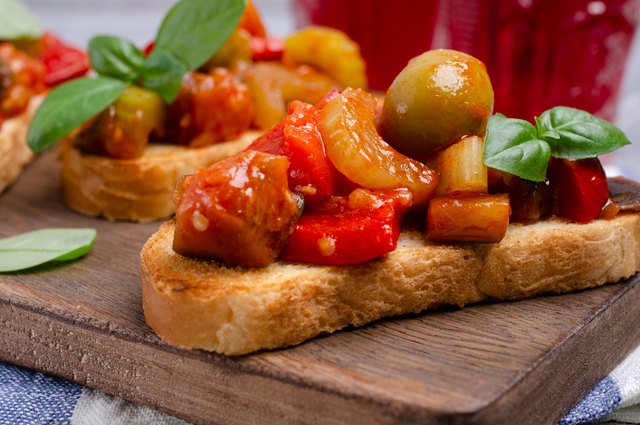 zia_shusha/iStock/GettyImages
Italian cuisine is one of simple, fresh ingredients, which are perfectly displayed in a favorite Italian appetizer – bruschetta. Bruschetta is typically composed of toasted bread with diced tomatoes, olive oil and fresh basil.
While making bruschetta is not technically difficult, the dish is best when high-quality, fresh ingredients are selected and prepared just before serving. Stick to a traditional tomato bruschetta recipe for a night of rustic, Italian fare or build your own bruschetta recipe by riffing on the ingredients or the style of preparation.
How to Serve Bruschetta
No matter whether you are making a romantic dinner for two, or you're looking for an easy and fast-passed appetizer for a large crowd, bruschetta is a good choice. Plates of bruschetta can be quickly prepared, but bruschetta can also be set up as a bar for guests to build their own customized dish.
If you are having an outdoor dinner party with something on the grill, start with bruschetta as an appetizer made over the wood-fired smoke to set the tone of the evening.
Build Your Own Bruschetta Recipe
Total Time: 10 minutes | Prep Time: 5 minutes | Serves: 8 slices bruschetta
Ingredients:
3 to 4 heirloom tomatoes, large and firm

8 tablespoons cold-pressed extra virgin olive oil or pesto

8 slices toasted garlic flatbread or naan
Butter, softened
1 clove garlic

1/3 cup fresh basil leaves, chiffonade or cut into thin ribbons
Flaky sea salt to taste (optional)

4 tablespoons high-quality, sweet balsamic vinegar (optional)

Other complimentary toppings (optional)

Directions:
Chop the tomatoes into small pieces that are no larger than 1/4-inch wide, preferably 1/8 inch.


Place the chopped tomatoes in a bowl and pour the olive oil over them to marinate. If you would like to use optional balsamic vinegar, add it to the bowl with the olive oil.



Slice the bruschetta

bread, spread softened butter across one side and toast it in the oven or in a buttered grill pan on the stove top until crisp. The bread should be crisp enough that it is not chewy and can be easily broken when bitten.

4. Rub garlic on the bread slices and use a knife to thinly spread any optional toppings like pesto, spreadable cheese or other dips like aioli sauces or condiments.

5. Top each slice with the tomatoes, chopped basil, and optional flaky sea salt.



6. Add any additional toppings you may like to pair with the tomatoes, such as the following combinations: pesto and Parmesan; fresh buffalo mozzarella; green tomatoes, bacon and pimento cheese for a Southern spin; or fajita chicken, tomatoes with chilies and a sprinkling of queso fresco for a Tex-Mex take.
Tip
Remember that traditional bruschetta is all about keeping things simple, from the ingredients to actually eating the slice of bread. It can get messy with toppling tomatoes, but ensuring that everything is bite sized helps keep everyone's laps clean.
Customizing Your Bruschetta
Building your own bruschetta is all about your personal taste and preferences. Do not be afraid to mix things up with your favorite tomatoes or your own take on a bruschetta-style appetizer using ingredients from another favorite cuisine.
Experiment with different types of cooking techniques, cheeses, spreads and toppings to feature new and different flavors in the bruschetta, like char-grilling the tomatoes for a bitter note or using Parmesan or olive tapenade for a saltier bruschetta.