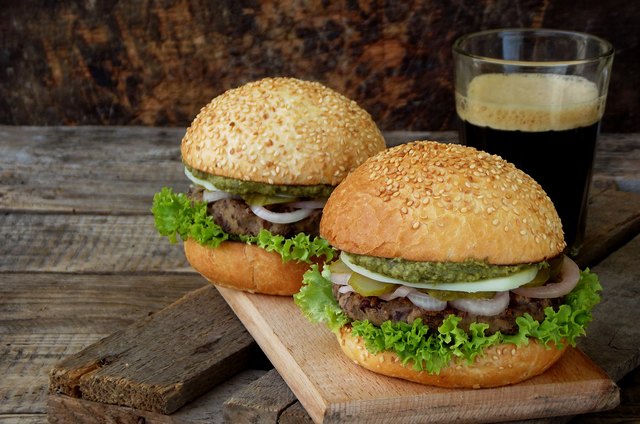 Oksana_S/iStock/GettyImages
Fire up the grill! Nothing screams summer barbecue more than flipping burgers on a sizzling grill. Plant-powered veggie burgers, black bean patties and other vegan black bean burger recipes make it easy to have healthier burger alternatives that are just as delicious and, in some cases, as beefy tasting as the traditional option. Even carnivores will crave these mouth-watering, meat-free burgers.
The Rising Popularity of Plant Protein
Plant-based burgers are increasingly popular and readily available, offered as a staple on menus at both sit-down and fast-food restaurants, including Carl's Junior, White Castle, Bareburger, BurgerFi and many other establishments. Even ballparks and cruise ships are going the beef-free route. Yankee Stadium and the Texas Rangers are among those offering the Beyond Meat burger made from pea protein, as well as other vegan black bean burgers as vegetarian-friendly alternative options.
Add Ingredients to Bind the Burger
For those wondering how to bind black bean burgers without eggs, look no further than Carnival Cruise Line. A hand-formed vegan black bean burger was recently added to their menu and is available onboard at Guy's Burger Shop, an eatery in partnership with the Carnival Liberty ship and Food Network personality Guy Fieri. The Carnival culinary team creates the black bean patties by soaking black beans overnight prior to mashing them, then adds sauteed mushrooms, roasted cauliflower, marinated pumpkin, tofu and rice before kneading all the ingredients into a tight structure.
You can take the beef out of the burger without sacrificing taste – or texture! Flour, bread and mashed black beans combine to bind the shape of these patties. They can also be made using gluten-free flour and bread, if desired.

Vegan Black Bean Burger
Total Time: 20 minutes | Prep Time: 10 minutes | Serves: 6
Ingredients:
1/2 onion, chopped small
1 (14-ounce) can well-drained black beans
2 slices bread, crumbled
1/2 teaspoon seasoned salt
1 teaspoon garlic powder
1 teaspoon onion powder
1/2 cup flour
dash salt to taste
dash pepper to taste
oil for frying
Directions:
Sauté onions until soft in a small frying pan.


Mash black beans until almost smooth in a bowl.


Add the sautéed onions to the mashed black beans along with crumbled bread, salt, garlic and onion powder. Combine well.


Add flour slowly, mixing into the base with your hands.


Shape the mixture by rolling into a ball, then gently flatten into individual patties.


Fry over medium-low heat (or place in air fryer) the black bean patties until firm and lightly browned on each side.
Beyond Meat Spring Burger
This pea protein, plant-based burger looks, cooks, tastes and has a similar texture to that of a beef burger, making it a great option for grilling or frying, as we learned in our interview with the experts at Beyond Meat. For summer entertaining, try making them into mini-patties or finger-sized slider burgers for fun. Or, form them into mini-meatballs to slip onto skewers with vegetables for the grill.
Total Time: 5 minutes | Prep Time: 45 minutes | Serves: 4
Ingredients:
4 Beyond Burger (or other plant-based) patties
3 cups arugula
caramelized onions
4 slices vegan smoked Gouda cheese
4 ciabatta buns
garlic aioli
Directions:
1. Cook Beyond Burger by grilling, about three minutes on each side, or until lightly browned.
2. A few minutes before each patty is finished cooking, add a slice of vegan smoked Gouda cheese and allow it to melt.
3. Toast ciabatta buns on the grill for two to three minutes, or to taste.
4. Place a burger patty on each bun.
5. Now's the fun part! Top each burger with caramelized onions and arugula.
6. Finally, spread garlic aioli evenly on the top half of the ciabatta bun. Serve and enjoy!
Plant-Based Carmelized Onions
Ingredients:
1 tablespoon vegan butter
1 large yellow onion
1 tablespoon coconut sugar
1 tablespoon balsamic vinegar
2 cloves garlic, minced
2 teaspoons fresh thyme
Directions:
Melt vegan butter over medium heat using a thick-bottomed, stainless steel or cast-iron pan.


Add sliced onions. Soften by simmering for 10 minutes.


Mix in a pinch of salt and sugar. Reduce heat and continue to cook for an additional 30 minutes to one hour, stirring frequently until onions appear caramelized with a deep amber color.


Finish by adding balsamic vinegar, thyme and garlic.


Cook an additional few minutes and set aside the caramelized onions for topping the burgers.
Plant-Based Garlic Aioli
Ingredients:
⅔ cup vegan mayonnaise
2 garlic cloves, minced
1 teaspoon lemon juice
¼ teaspoon sea salt
2 to 3 tablespoons water (optional to thin)
Directions:
Combine vegan mayonnaise, garlic, lemon juice and sea salt. Use either a blender or food processor to process until the mixture is smooth.


Scrape the sides and add water as needed.


Repeat blending until the desired consistency is reached.


Store in an airtight container and refrigerate until ready to use. Vegan aioli may last up to seven days stored in the refrigerator.

Black bean burgers are delicious and packed with protein, too. It's easy to make meat-free meals that will satisfy anyone from carnivores to vegans!