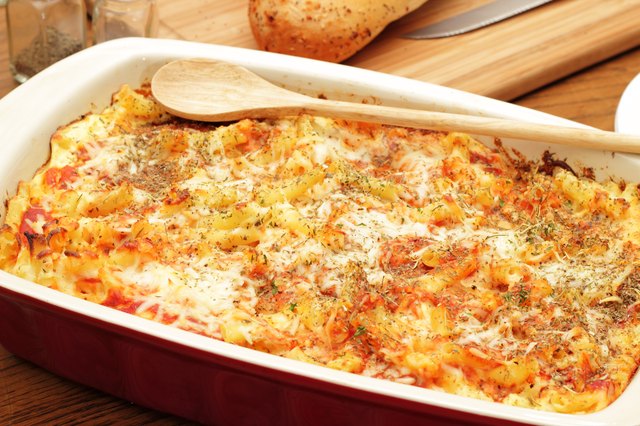 Baked ziti is a baked pasta dish often made with ground beef, tomato sauce, ricotta cheese mixture and fresh mozzarella. While ziti pasta is often used, and ground beef is the go-to meat of choice when browned meat is being added, there are other options that can be substituted instead. If penne pasta, or any other tubular pasta, is on hand, ziti pasta is not necessary. Ground turkey, Italian chicken or spicy pork can be traded for ground beef as well. Feed a large group with just a little preparation, and store in the fridge or freezer before reheating when needed. Don't forget to add your own seasonings to the baked ziti recipe like oregano, thyme, rosemary and basil for a fresh and bright flavor.
Baked Ziti Recipe
Total Time: 1 hour 10 minutes | Prep Time: 30 minutes | Serves: 8
Ingredients:
1/4 cup extra virgin olive oil
2 tablespoons unsalted butter
1 small white onion, chopped
4 cloves garlic, minced
2 tablespoons tomato paste
1/2 can crushed tomatoes
2/3 cup whole cherry tomatoes
1/2 tablespoon red chili flakes
1/2 teaspoon salt
1 container (16 ounces) ricotta cheese
1/2 cup heavy cream
1/2 cup finely grated Parmesan cheese
1 pound ziti, penne or other tubular pasta
1 pound fresh mozzarella cut into pieces
Optional: 1 pound ground beef, turkey or chicken
Directions:
In a large pot, salt the water and bring to a boil, adding the pasta to cook once a rolling boil is reached.


While the pasta cooks, heat the butter in a saucepan over medium heat. Remove the pasta from the boiling water just before it is fully cooked as it will finish cooking in the oven.


Cook the onions, garlic and optional ground meat until soft and gently browned, then add the tomato paste and half the olive oil and continue to cook for two to three minutes.


Scraping the cooked onion and garlic from the bottom of the pot, add the crushed tomatoes, chili flakes and salt. Cook for another 25 to 30 minutes, then add one cup of leftover starchy pasta water.


In a medium mixing bowl, combine the ricotta, heavy cream and Parmesan, stirring to combine.


Heat the oven to 425 degrees Fahrenheit.


In a large bowl, combine the pasta, remaining olive oil, cherry tomatoes and two-thirds of the tomato sauce, stirring to evenly combine.


Spoon the remaining tomato sauce into the bottom of a baking dish, then add a layer of the coated pasta.


Add a layer of sauce, a layer of the ricotta mixture and a layer of mozzarella pieces.


Repeat the layers until the final top layer of mozzarella pieces.


Bake in the oven for 40 to 45 minutes until crisp around the edges.


Serve hot or cover with plastic wrap after coming to room temperature and store in the fridge for up to a week.
Baked ziti is a good meal for a crowd because it comes together without much effort and can be prepared well in advance and reheated. Adding whole cherry tomatoes will add a pop of fresh flavor similar to that of sun-dried tomatoes.