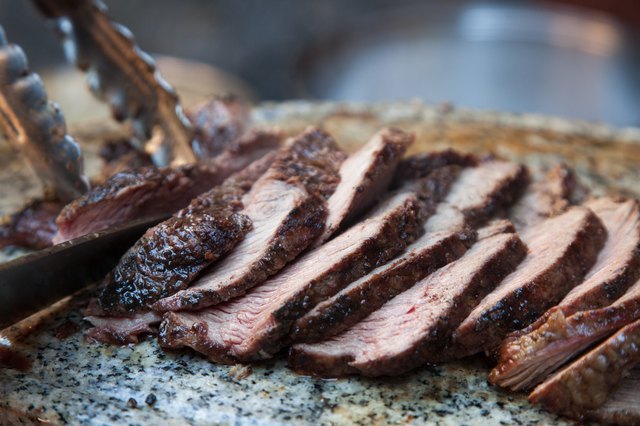 panchof/iStock/GettyImages
The way carne asada rolls off the tongue is just the beginning of all the goodness it creates inside your mouth. Carne asada is a traditional Mexican dish that has crossed the whole world and is as welcome in the kitchens of luxury hotels as it is at a taco truck on the side of the road. And that means it's right at home in your kitchen, too. Carne asada can be made into steak tacos, carne asada fries or nachos, put on top of a salad or just eaten plain. There's no wrong way to asada.
The Meaning of the Meat
A carne asada recipe is really what you make of it. Carne asada means grilled meat in Spanish so, as long as you have meat at the heart of the recipe, you're on your way. The type of meat is most likely always going to be steak, but you could just as easily put this carne asada marinade on chicken, pork or even tofu if you're vegetarian. For the steak lovers out there, you'll likely want to use a flank steak, though you could pick a sirloin, tenderloin or skirt steak and get ready to fire up the grill.
Carne Asada Marinade
A carne asada recipe is only as good as its marinade. And the marinade is only as good as your taste buds. Try different versions each time you make it to decide what your favorite is. You could also spice it up with chilies, sweeten it with the juice of an orange or maple syrup, or even add some tartness by increasing the lime quotient. You could add beer or red wine for flavoring, soy sauce or Worcester sauce – it's all up to you.
To Grill or Not to Grill
Since asada means grill, it's definitely better if you cook this dish on an outdoor grill. Those flame-burnt bits of meat are heaven. But you're not at a total loss if you don't have access to one. A stovetop will work. Heat a large cast-iron skillet over high heat, cooking the meat for about 5 to 7 minutes per side. A minute longer if you like it more well done.
Total Time: 2 hours | Prep Time: 15 minutes | Serves: 10 to 12
Ingredients:
2 to 3 limes, juiced
4 to 5 garlic cloves, crushed
1 cup cilantro, chopped
1/4 cup of rapeseed or avocado oil
1 jalapeno or chipotle pepper, minced with seeds for a spicier marinade
1 teaspoon salt
1 teaspoon black pepper
1 teaspoon chili powder
1 tablespoon cumin
1 tablespoon paprika
1 tablespoon dried oregano
2 tablespoons of white vinegar
2 pounds of steak
Directions:
1. Heat your outdoor grill to high.
2. In a large bowl or large resealable bag, combine lime juice, garlic, cilantro, oil, jalapeno/pepper, salt and pepper, chili powder, cumin, paprika, oregano and vinegar. Mix well by shaking in the bag or whisking in a bowl.
3. Pour out some of the marinade and set aside to use for serving.
4. Put the steak into the bag and seal it up tight, squishing it and mixing it around so that it is completely coated in the marinade. Put in the refrigerator for two hours. Alternatively, pour half the marinade into a glass baking tray and then put in the steak, pouring the rest of the marinade on the top. Ensure full coating, cover the tray and put in the refrigerator for two hours.
5. Remove the steak from the marinade and cook on the grill for 7 to 9 minutes per side. Remove and let sit for about 10 minutes before slicing.
6. Slice the carne asada against the grain and serve with rice and salad or your choice of sides. Or, chop into fine bits after slicing and create steak tacos.
Tip
Marinate the steak overnight for a truly and fully flavorful carne asada recipe that will be sure to bring you back for seconds.