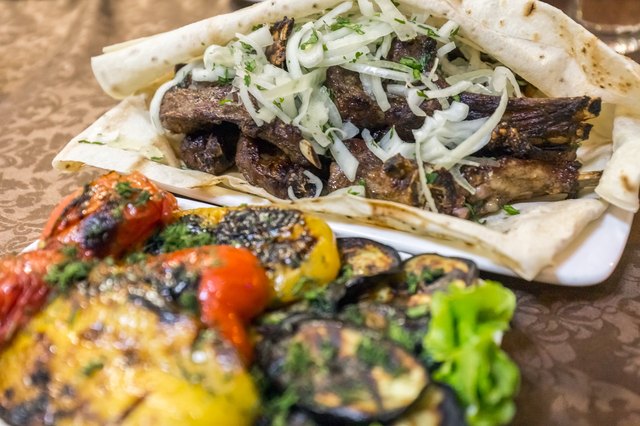 RuslanKaln/iStock/GettyImages
A gyro is a Greek specialty that shares similarities with shawarma, a staple in Middle Eastern diets, and lamb-based döner kebabs from Turkey. It is made of meat that has been molded onto a vertical spit that rotates as it cooks. Once it is roasted, the meat is shaved off with a sharp knife as the spit turns and then served in a pita, or flat bread, with grilled onions and tzatziki. Tzatziki is a yogurt-based sauce made with cucumbers and various herbs and spices depending on where it is served. The meats also vary and can include lamb, chicken, beef or pork.
The History of the Gyro
Gyros started making a splash in America in the early 1970s, showing up in Chicago and New York City. At first, they were handmade, but according to Margaret Garlic, she came up with the idea to mass produce gyro meat cones. Her epiphany reportedly occurred while watching a restaurant owner carve gyros on the television show, What's My Line? This led her to call him, and he advised her to head to Chicago where there was a big Greek community. After finding a Chicago chef willing to share a recipe, she and her husband rented a plant and started cranking out gyro cones.
How the Name Came to Be
The name gyro comes from the Greek word for circle and is borrowed from the Turkish word that means turn. There is also another meat dish similar to the gyro known as souvlaki or kalamaki, which is a pita-wrapped sandwich made with gyro meat. Gyro is often mispronounced, and while the word is singular, the proper pronunciation is YEE-ros.
Easy to Make at Home Gyro Recipe
Total Time: 1 hour 30 minutes | Prep Time: 30 minutes | Serves: 4
Ingredients:
1 pound ground beef or lamb
1 medium white onion, finely chopped
3 cloves garlic, minced
2 teaspoons salt
1 teaspoon black pepper
2 teaspoons dried oregano
1 tablespoon rosemary
2 teaspoons kosher salt
1 teaspoon freshly ground pepper
2 teaspoons fresh lemon juice
Tzatziki Sauce:
16 ounces plain Greek full-fat yogurt

1/2 English cucumber, peeled, seeded and finely chopped
dash of kosher salt
6 cloves garlic, finely minced
1 tablespoon dill
1 tablespoon extra-virgin olive oil
1/2 teaspoon red wine vinegar
Sandwich:
4 rounds pita (pocketless)
1/2 head iceberg lettuce, chopped
1 tomato, sliced
1 white onion, sliced
paprika to garnish (optional)
Directions:
Meat Preparation:
In a bowl, combine beef, onion, garlic, oregano, rosemary, salt, pepper and lemon juice. Mix together thoroughly.


Divide the mixture into four equal portions and mold them into shapes of sausages, about 6 inches long and 1/2-inch in diameter.


Refrigerate for an hour. Then grill the patties over high heat for 4 minutes per side.


While you are waiting for the meat to chill, prepare the tzatziki.


Place yogurt in a medium bowl and add the rest of the ingredients. Stir to combine.


Cover and refrigerate.
To assemble the gyro, place one piece of lamb in the center of the pita. Add some lettuce, diced tomato and a few onion slices. Fold the pita and top off with tzatziki. Sprinkle with paprika if using.