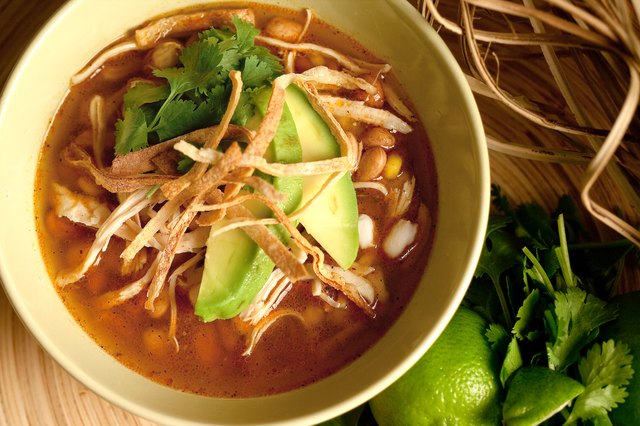 Christina Brunk/iStock/GettyImages

The classic Mexican tortilla soup is as traditional as it is versatile. The tomato-based broth can serve as a simple, easy-to-prepare weekday appetizer or as a heartier meal when bulked up with protein. Tortilla soup also makes for an excellent entertaining dish, especially when paired with a buffet spread of ingredients, allowing guests to make the meal their own by customizing the soup's toppings. As an added bonus, this allows the versatile dish to work for a variety of individual diet preferences.
Create Custom Tortilla Soup
Prep for a party by making the base tortilla soup vegetarian-friendly by using a veggie broth, rather than the traditional chicken broth. Then, set up a buffet-style spread of ingredients so that guests can make their own tailor-made soup. Think chopped onions, scallions, sliced radishes, jicama, guacamole, sliced avocado, shredded cheeses, tortilla chips, hot sauces and more. The options are endless for add-ons and garnishes to dress up the soup. Don't forget shredded chicken, pulled pork or short ribs for the meat eaters.
Classic Chicken Tortilla Soup Recipe
Whip up this traditional take on chicken tortilla soup with minimal effort and time. Serve it either as a pre-meal starter or as a main dish. The chicken broth can always be subbed out for veggie-based broth, and the chicken can be swapped for extra beans to make it work for plant-based eaters.
Total Time: 40 minutes | Prep Time: 10 minutes | Serves: 4
Ingredients:
6 tablespoons cooking oil
8 (6-inch) corn tortillas, halved and cut crosswise into 1/4-inch strips
1 onion, chopped
4 large cloves garlic, smashed
1 tablespoon paprika
2 teaspoons ground cumin
1 teaspoon ground coriander
1 teaspoon chili powder
1/4 teaspoon cayenne
1 1/2 quarts canned low-sodium chicken broth or homemade stock
3 cups (28-ounce can) canned crushed tomatoes in thick puree
2 bay leaves
2 1/2 teaspoons salt
1/4 cup lightly packed cilantro leaves, plus 3 tablespoons chopped cilantro (optional)
1 3/4 pounds boneless, skinless chicken breasts, cut into 3/4-inch pieces
1 avocado, diced into 1/2-inch pieces
1/4 pound cheddar, grated
Lime wedges for garnish
Directions:
1. Heat oil over moderately high heat.
2. Add half of the tortilla strips and cook for about one minute, stirring until chips are light golden.
3. Remove with a slotted spoon and drain tortilla strips on paper towels. Repeat with the remaining tortilla strips.
4. Reduce heat to a low setting. Add onion, garlic and spices.
5. Cook for 5 minutes, stirring.
6. Next, add the broth, tomatoes, bay leaves, salt, cilantro leaves and one-third of the tortilla strips.
7. Bring to a simmer, uncovered, for 30 minutes and then remove the bay leaves.
8. Puree the soup in batches in a blender and then pour it back into the pot.
9. Add the chicken, bring soup back to a simmer.
10. Stir in the avocado.
11. Put the remaining tortilla strips in bowls, top with the cheese and finally, pour in the broth.
12. Sprinkle with chopped cilantro. Serve with lime wedges as garnish.
Classic chicken tortilla soup is perfect for all occasions and suitable for a wide range of diets. Serve it when entertaining guests or simply on those nights when a quick and relatively easy-to-make meal is a must have. Prep the soup the classic way with chicken or stick to a veggie-based broth and mix in as many toppings and creative ingredients as desired. Bon appetit!