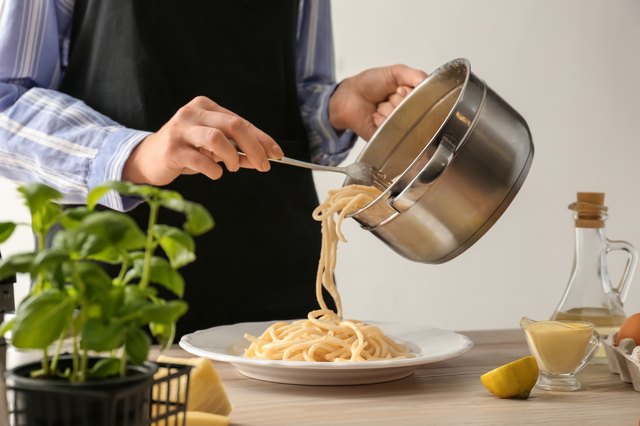 serezniy/iStock/GettyImages
On a busy weeknight, when the day's schedule has gotten away from you, and dinner needs to be quick but substantial, there's nothing easier – with little to no prep time and easily accessible ingredients – than putting together a chicken spaghetti recipe. Made with previously prepared ingredients, chicken spaghetti is as easy as boiling some pasta, stirring the components together and letting the oven take care of the rest. It is the perfect dish to plan for the night after chicken is served, as you can use all of your leftovers to create something new and delicious that everyone will want seconds of.
Refrigerate what is left overnight for a perfect work lunch the next day or simply double the recipe and reheat for another no-fuss night of dinner prep. What's better? It's cheesy and delicious, which means kids will go nuts for it. The next night, if you can't be bothered to go all out with something complicated and need a little pick-me-up, try your hand at this quick, easy and cost-effective chicken spaghetti recipe.
Total Time: 40 minutes | Prep Time: 1 minute | Serves: 6
Ingredients:
1 (12-ounce) package of angel hair pasta
3 cups cooked chicken, chopped
2 cans cream mushroom soup
1 can cream chicken soup
1/2 pound Velveeta cheese, cubed (or a similar processed cheese)
1/2 can Rotel (or other canned tomatoes)

1/2 cup sharp cheddar cheese, grated

salt and ground black pepper to taste
Directions:
In a large saucepan over high heat, bring pasta to a boil. Cook for seven to 10 minutes, stirring occasionally, until the pasta is al dente. Remove the pan from heat, drain the pasta then return it to the pan.


Remove previously cooked chicken from the refrigerator and add to the pasta. For a juicier dish, save 1 cup of broth from when you boil the pasta and pour it into the chicken and pasta mix duringthis stage. The liquid will soak into the pasta and chicken during the baking stage for an even more mouthwatering result in the end.


In the same pan, combine the cream of mushroom soup, the cream of chicken soup, the Velveeta and a half can of Rotel. If you are a fan of chicken spaghetti with Rotel, but don't want all of the spicy vegetables, try using just the juice from the can.


Stir all of the ingredients together in the pan, then pour the mix into a 9-inch by 13-inch casserole dish. Place into the oven heated to 350 F and let the mixture cook for 30 minutes. After 25 minutes, sprinkle cheddar cheese over the top and let cook for five more minutes for a cheesy chicken spaghetti finish.

When the chicken spaghetti has finished cooking, remove from the oven and let cool for two to three minutes. Put onto plates, salt and pepper to taste and enjoy
Tip
This recipe works best if the chicken has either been chopped or shredded, so it is the perfect excuse to use any leftover chicken you might have made for dinner the night before.