For grilling season, we can't always drink rosé and call it a day. As good as rosé is in the summertime, some people do enjoy digging deeper into a variety of wines for the seasonal patio parties and grilling. And, for good reason, as sometimes different sips work better with certain grilled items.
Here are a few awesome wine and grilling pairings, thanks to Adam Sweders, the Corporate Sommelier of DineAmic Group's restaurants in Chicago including his prized possession, Prime & Provisions.
Fruit + White
"When looking to pair wine and fruit do not overlook the commonly loved varietal of Pinot Grigio. Often described as the 'fruit cup' by Sommeliers, pairing Pinot Grigio and a fruit will go together beautifully, especially one from the Northern Italy region on Veneto," he says.
Here's why this lighter wine is so wonderful with fruit. "Pinot Grigio expresses practically the entire fruit spectrum which will pair well with...well, fruit. Plus it's lower in acid which won't combat the natural acid in the fruit," he says.
Cheese + Gewurztraminer
"If you are looking to stick with whites, given the warm weather, I suggest pairing your cheese with the nerdy varietal of Gewurztraminer from the Alsace region of France," he says. "Gerwurtztraminer has a very strong floral and spice element which naturally balances out the funkiness of cheese," he explains.
Yet, you can opt for a red, if you're looking for something with a kick and don't care about the warmer temperature. It will still go well with cheese. (And, if interested, here are a few more wine and cheese pairings.)
Chicken + Rosé
"When chicken is on the menu, go back to a rosé. My rosé suggestion would be a Domaine Tempier from Bandol in Southern France. The intense fruit and floral nose make this an attractive rosé for any chicken dish," he says. "Rose pairs well with a lot of things due to its high acidic profile," he says.
Here's his pick: Domaine Tempier. It's a richer, complex style that would do well with bbq chicken and its spices, he says.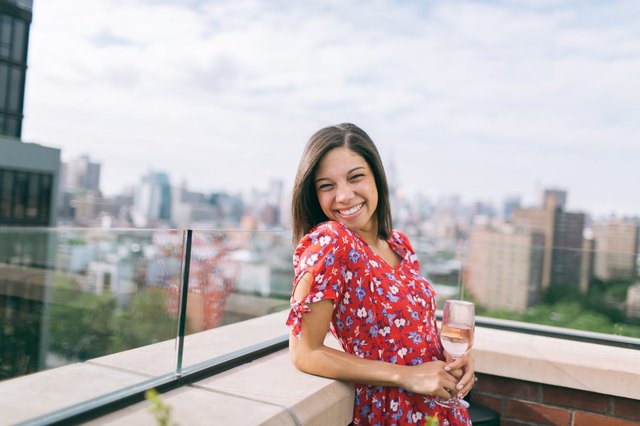 Fish + Spanish Wine
"Your best option for a fish dish is a Spanish wine. Albariño is my go-to as the locals in this region seemingly eat nothing but fish and created a wine to pair perfectly with it," he says.
Albariño at times has a hint of salinity, and it goes tremendously with most seafood and shellfish. "Also, lighter in style and high in acid, it's a match made in heaven for seafood. Especially briny styles such as oysters, mussels, and clams," he says.
Beef + Red
"Then, there is the pride and joy of the Midwest, beef. A natural choice would be red, so I say, try a Zinfandel. I'd suggest a single vineyard option from Turley in Northern California," he says. (Plus, red wine has some perks!)
Big and bold, Zinfandel is perfect with meaty tastes and texture. "Zin has an iconic pepper finish that would work harmoniously with a salt and pepper seasoned steak," he says.
Tofu + Cru Beaujolais
Tofu is tricky, so it deserves something uncommon and interesting. "As unique of a food I believe tofu to be, I would pair it with a unique wine, itself. Cru Beaujolais from Southern France should hit the spot perfectly," he says. "I'd recommend a light concentrated version such as Guy Bretons Reigne," he adds.
Cru Beaujolais is a light style. "The light nature plus the earth element it provides makes it a match made in pairing heaven with tofu," he says.
You might also like: 5 French Goat Cheese Pairings (Video!)