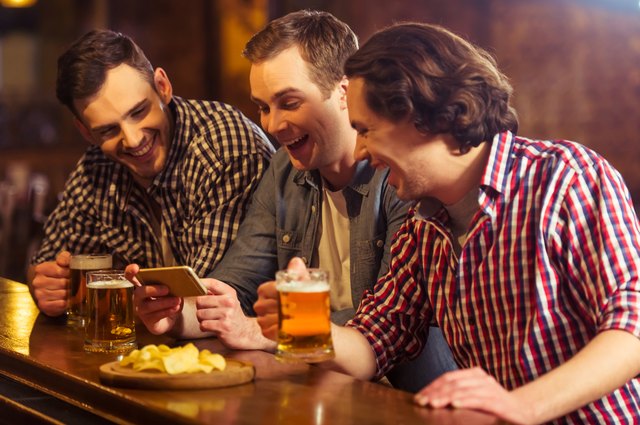 GeorgeRudy/iStock/GettyImages
It's a situation most people are familiar with in one way or another: You're out on a weeknight with friends, planning to have just a drink or two before heading home and getting plenty of sleep like a responsible adult. But once the drinks start flowing and you're having fun, it's easy to let time get away from you — until your phone buzzes and a text message pops up:
"How much have you had to drink?"
Nope, this message isn't from your mom, dad or significant other, but from an app that nags you with reminders of your responsibilities while you're out drinking.
So would that help you drink less? That's why researchers at Victoria University in Australia are testing out an app developed by the Burnet Institute — Mobile Intervention for Drinking in Young people (MIDY) — in a government-sponsored effort to reduce binge drinking that largely targets college students.
"We've seen promising results with a growing number of health-promotion programs that use a targeted approach to shift the expectations, beliefs and social norms around alcohol culture," Dr. Tim Corney, the lead researcher of the study, said in an announcement on the university's website.
What sets MIDY apart from the other apps that aim to help users curb their alcohol consumption — Sobriety Clocks, DayBreak and AlcoChange — is it's focus on understanding and moderating college students' drinking behaviors before, during and after a night out through tailored text messages.
The app prompts users with an hourly survey on their state of sobriety, mood, location and commitments for the next day, which will then determine the texts they receive. It also tailors the tone of responses. Throughout the night, the app will ask users how much they've had to drink or how much money they've spent — similar to how a parent would badger their kid. But, surprisingly, during MIDY's trial period, the app boasted an 89-percent response rate to its questionnaires in college-age users while out drinking.
Having said that, a 2016 Swedish study on mobile technology and alcohol consumption suggests that message notifications and sobriety logs might not be enough to tackle college drinking culture.
The research cited multiple additional studies that offered different, inconclusive results. In one 2015 study from New Zealand on text notifications, only women changed their drinking habits in response to the intervention — but not men.
It seems like only time and data will tell if MIDY and similar drinking apps will be a success among users. In the meantime, here are some great tips on how to imbibe without undermining your health and/or diet.
What Do YOU Think?
Would you download an app like MIDY to track how much you drink? Do you think a nagging text message would help you on a night out? If you were trying to cut back on drinking, what do you think would help? Let us know in the comments below!